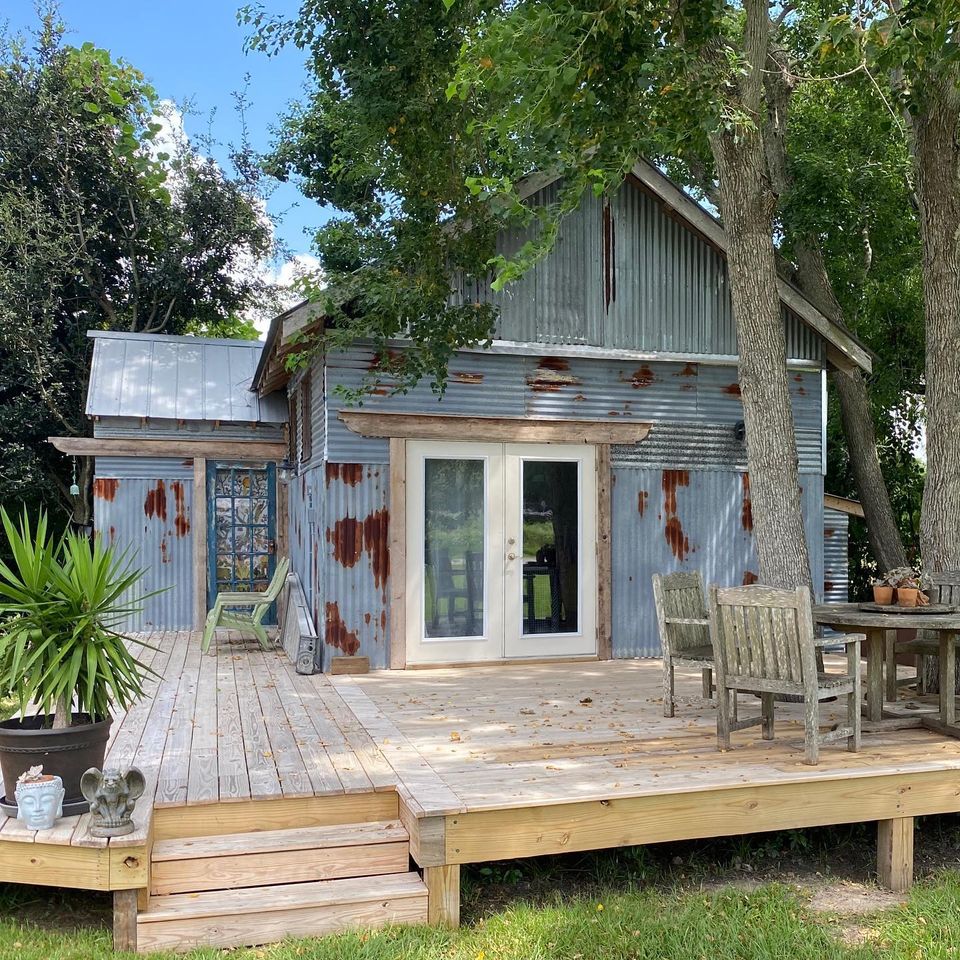 TIN SHED
The Tin Shed is a magical retreat from workaday life - a place to catch up with yourself and slow down. Located three blocks from the beach on the grounds of the 100 Men Hall, a rare African American landmark and one of the few standing sites on the MS Blues Trail, the Tin Shed is a step out of time and a place of wonder. 
Stay in History
Interested in music and history and staying in a historic landmark on the beautiful Mississippi Gulf Coast? Retreat to an out of the ordinary experience - email Rachel at 100menhall@gmail.com for more information. The Tin Shed is a wonderful way to experience Bay Saint Louis. 
Artist in Residency
The Tin Shed allows the 100 Men Hall to invite musicians/artists from around the world to showcase this architectural and historical gem. 
The residencies are by invitation only. We ask of each the artists that serve residency here to leave their mark in some way so others will appreciate the creative spirit that gave rise to this place. We let the artist decide what "leaving a mark" means. If you are interested in a residency, please email at 100menhall@gmail.com.
History of the Tin Shed: The 100 Men Hall is a federal 501c3 nonprofit and received grants from the Mississippi Gulf Coast National Heritage Area and Coast Electric Round Up to create a cottage where musicians/artists could be in residence at the 100 Men Hall. The grants allowed the 100 Men Hall to complete furnishing the cottage on the property as an accommodation. The cottage also serves as an inspiring pied a terre for musicians/artists in need of a creative environment in which to hone their craft. (The "woodshed" of jazz legend.)
As the birthplace of a unique blues, R&B, and jazz groove, this National Heritage Area and historical landmark drew on the musical genius of the Mississippi Delta and the Hill Country to forge a unique and original form of music (especially when married to the modern sound coming from New Orleans). For African American musicians on the chitlin circuit, places like the 100 Men Hall fed their talent and their bellies. At the same time, their music helped replenish the funds that took care of a community in need.
The Hall continues the historical (almost "sacred") tradition of presenting live music. A Tin Shed residency is designed to offer musicians/artists a welcoming and supportive place to stretch out, to enjoy the natural beauty of the area, and learn more about their musical ancestors. The Hall could function either as a rehearsal/recording room or a live performance space for musicians working on upping their game.
Berkley the Artist
Photo credit: Ann Madden Photography