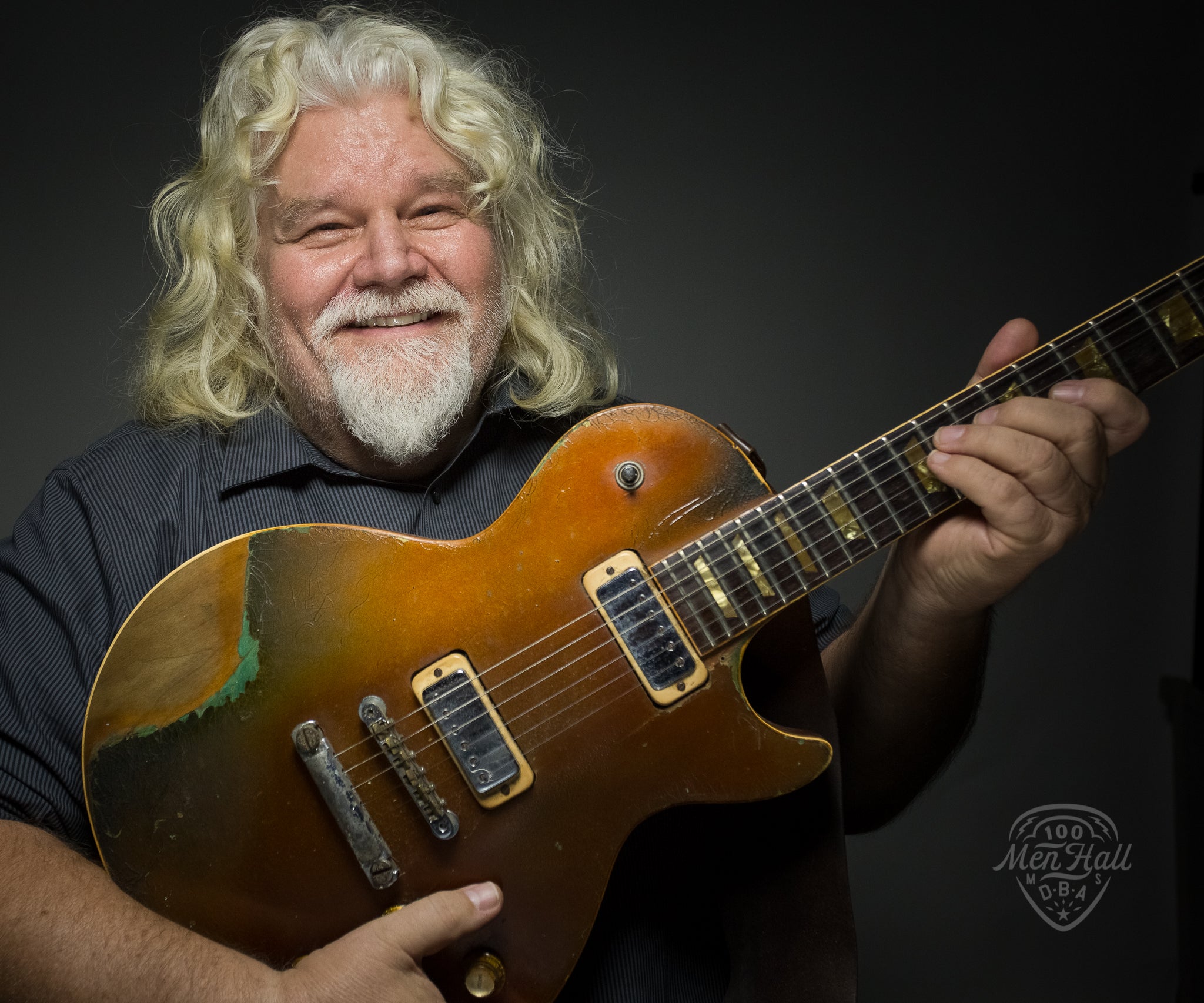 Chuck Tippit
DAY 086 Chuck Tippit photographed exclusively for the 100 Men Hall People Project (100MHPP). 
My daddy owned a music store in New Orleans – Tippit's Music at 305 N. Carrollton and in Gulfport. I've known about the Hall since the early 70s, maybe before then, but the first time I played here was the early 70s. I played the Hall with Guitar Bo and Ms. Dee. I played here with Southwind and later I played with Jesse Loya. I played with JB and the Phaze. One time, I got here early to set up to play and this guy asked isn't JB playing tonight? And I said I think so, and he said well isn't that a Black band and I said yeah but tonight it's Phaze Light. Back then country music ruled and you had to play country 80% of the time, but here we'd play the blues, which was great because we were rock and rollers. I grew up listening to the blues with my brothers and I've always enjoyed it. I've been here off and on with several different bands. This was a multipurpose hall with bingo, church socials, and a lot of dances. In the 70s, there was a mix of Black and white people. Last time I played the Hall was six years ago on New Year's Eve, Bo and Dee were playing and Jesse got up there with us.  
(Photo by: Gus Bennett | The 100 Men Hall People Project) 
____________ 
100MHPP RIGHTS USAGE TERMS: This official 100 Men Hall People Project (100MHPP) photograph is made available only for publication by news organizations and/or for personal use printing by the subject(s) of the photograph. The photograph may not be manipulated in any way and may not be used in commercial or political materials, advertisements, emails, products or promotions that in any way suggests approval or endorsement by the 100 Men Hall People Project or Rachel Dangermond.  
© 2019 The 100 Men Hall People Project (100MHPP) 
#100MenHall #100MenHallPeopleProject #mgcnha #heritagearea #GusBennett #Mississippi