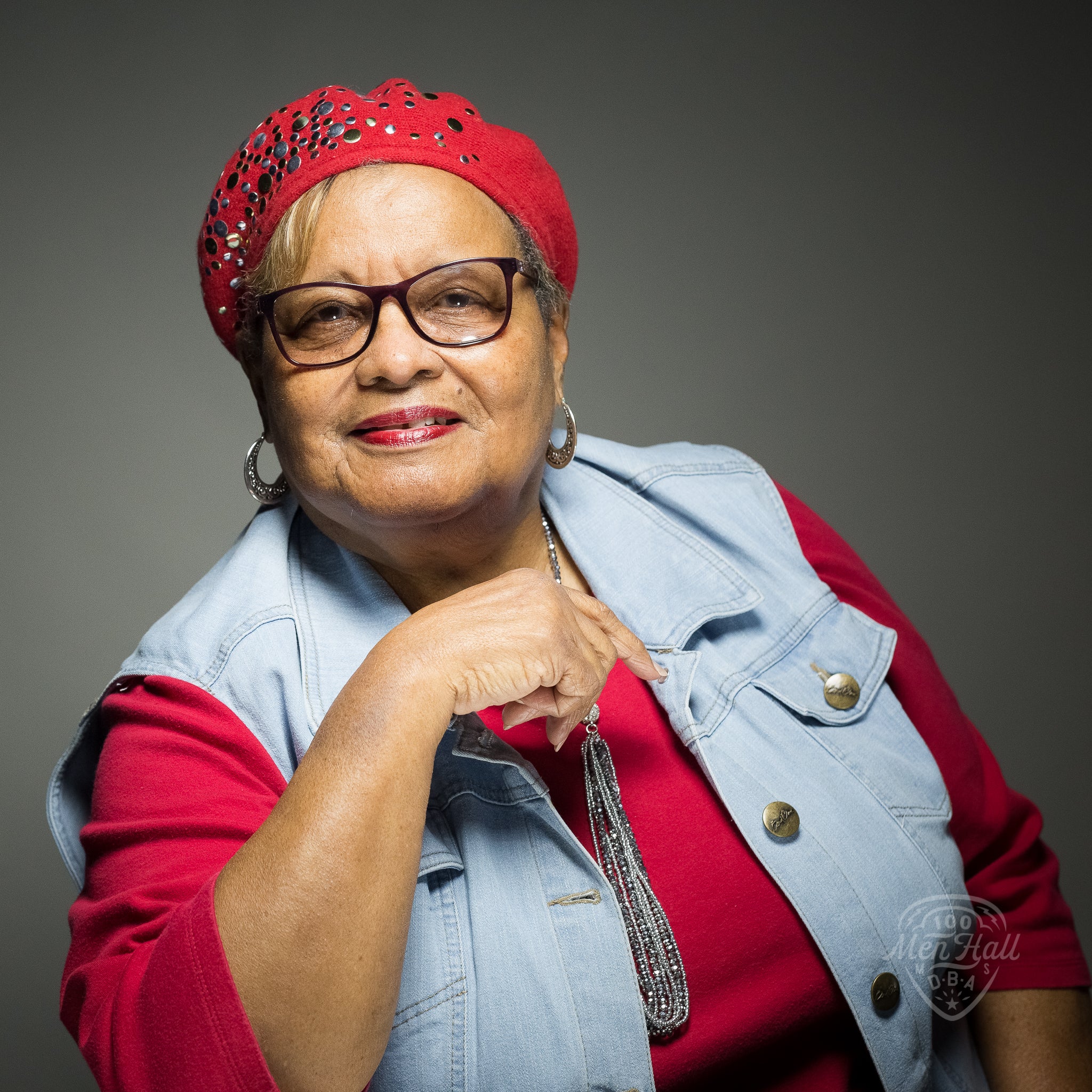 Clementine Williams
DAY 060 Clementine Williams photographed exclusively for the 100 Men Hall People Project (100MHPP).
I grew up knowing about the Hall because my parents used to come, and I wasn't allowed to come until I was in 12th grade. We would ride our bikes by here or drive by in the car and we'd hear the music but they couldn't come in because we were all in the car with them. When I went to college, and I'd come back I'd come for a dance. At first people used to come and pay dues for the benevolent society, for doctor's visits and the org would give you a little money for the doctor. I would come over and pay my daddy's dues. On the weekends they had dances, with people like Eddie Bo and Ernie K Doe and the Meters (Art and Aaron Neville) and Joe Turner that was the big weekend there would be dances. Most of these people were not famous then. There were tables with set ups, you could buy the ice and cokes, and it was like a club that you could dance at night. Everyone was dancing and having a big time, there was never a fight or anything, young (18 year olds) and middle age and old folks all came here. It was magical. I finally got into the 100 Men Hall! Ernie K Doe was here, and I was thrilled, I had gotten me a new outfit, my dad and mom were here, aunts and friends, and cousins. I didn't have a boyfriend, but I had a new dress and I thought I was hot stuff. Daddy was already here with my mama, my uncle and some of my aunts, and it was full in here, and my Daddy already had a table. I didn't realize the importance of this place until it came out of Black people and was sold to someone. And no one could afford to buy it. I was away. I wasn't here. Most of my years after college were away from here. Some of the older men died out. The kids weren't interested. The Disabled Veterans bought it and they had bingo. I didn't come back until there was an open house that the couple before you had. 
(Photo by: Gus Bennett | The 100 Men Hall People Project)
____________
100MHPP RIGHTS USAGE TERMS: This official 100 Men Hall People Project (100MHPP) photograph is made available only for publication by news organizations and/or for personal use printing by the subject(s) of the photograph. The photograph may not be manipulated in any way and may not be used in commercial or political materials, advertisements, emails, products or promotions that in any way suggests approval or endorsement by the 100 Men Hall People Project or Rachel Dangermond.
© 2019 The 100 Men Hall People Project (100MHPP)
#100MenHall #100MenHallPeopleProject #mgcnha #heritagearea #GusBennett #Mississippi