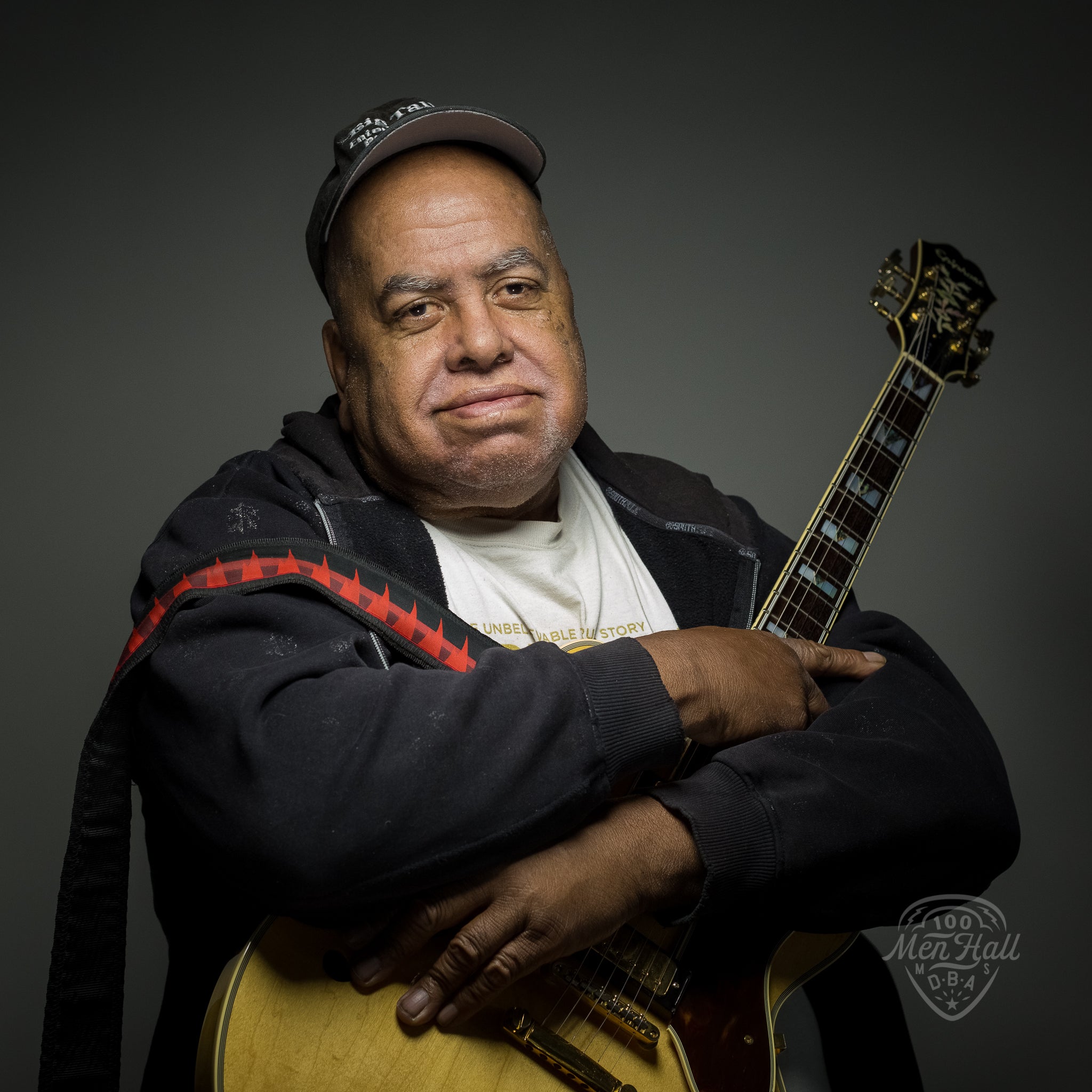 Dennis Farve
DAY 084 Dennis Farve photographed exclusively for the 100 Men Hall People Project (100MHPP). 
The first time I came inside the Hall to see music it was either the Knights of Peter Claver that had a band or it was James Brown. I remember seeing James Brown here. I might have been 17 years old (1967). There was no place else to go, it was the Hall or school functions at St. Rose. St. Rose had what we called a cracker box gym because it was half the size of a gym. They had dances there. I was the DJ back then. Larry McKinley from WYLD in New Orleans came and was the MC and I got to meet him, and he said, "Man, I'm going to let you do this, you are doing better than I could." He made me feel good.  One night there was a dance at the Hall and King Floyd was playing and back then Groove Me was the song and he leaned over to shake one of the girl's hand and they pulled him off the stage. You ask anyone that was there that night. They talked about that for a year afterwards. I came around the Hall, snuck around earlier when I was still in school because you weren't allowed inside. When you got here late it looked like the whole building was rocking side to side. Now it seems small but back then it looked huge. We were younger and the Hall was so huge. They always had a crowd around it and had a lot of young people; most couldn't go inside because they were too young. You'd never see a fight. I don't remember anything bad happening and that is unusual when you have that many people. We hung around outside and tried to talk to the musicians. I knew when I was 10 years old that I wanted to be a musician. I picked up a guitar and just started playing. I played the Hall with Bo & Dee. I missed a lot of dances they had at the Hall because I was playing elsewhere. I may have come for one Mardi Gras ball but around that time I was playing other Mardi Gras balls in Gulfport, Slidell and New Orleans. One of my strongest memories wasn't even inside the Hall; it was outside the Hall when my friend backed into my car. I almost cried; I couldn't tell my parents. It caved in the back panel by the passenger side. I'm a mechanic now but back then I tried to do the bodywork on it and tried to straighten it out and spray it with a paint can. I was directing him back and he backed into it so it was not his fault, it was mine.  
(Photo by: Gus Bennett | The 100 Men Hall People Project) 
____________ 
100MHPP RIGHTS USAGE TERMS: This official 100 Men Hall People Project (100MHPP) photograph is made available only for publication by news organizations and/or for personal use printing by the subject(s) of the photograph. The photograph may not be manipulated in any way and may not be used in commercial or political materials, advertisements, emails, products or promotions that in any way suggests approval or endorsement by the 100 Men Hall People Project or Rachel Dangermond.  
© 2019 The 100 Men Hall People Project (100MHPP) 
#100MenHall #100MenHallPeopleProject #mgcnha #heritagearea #GusBennett #Mississippi