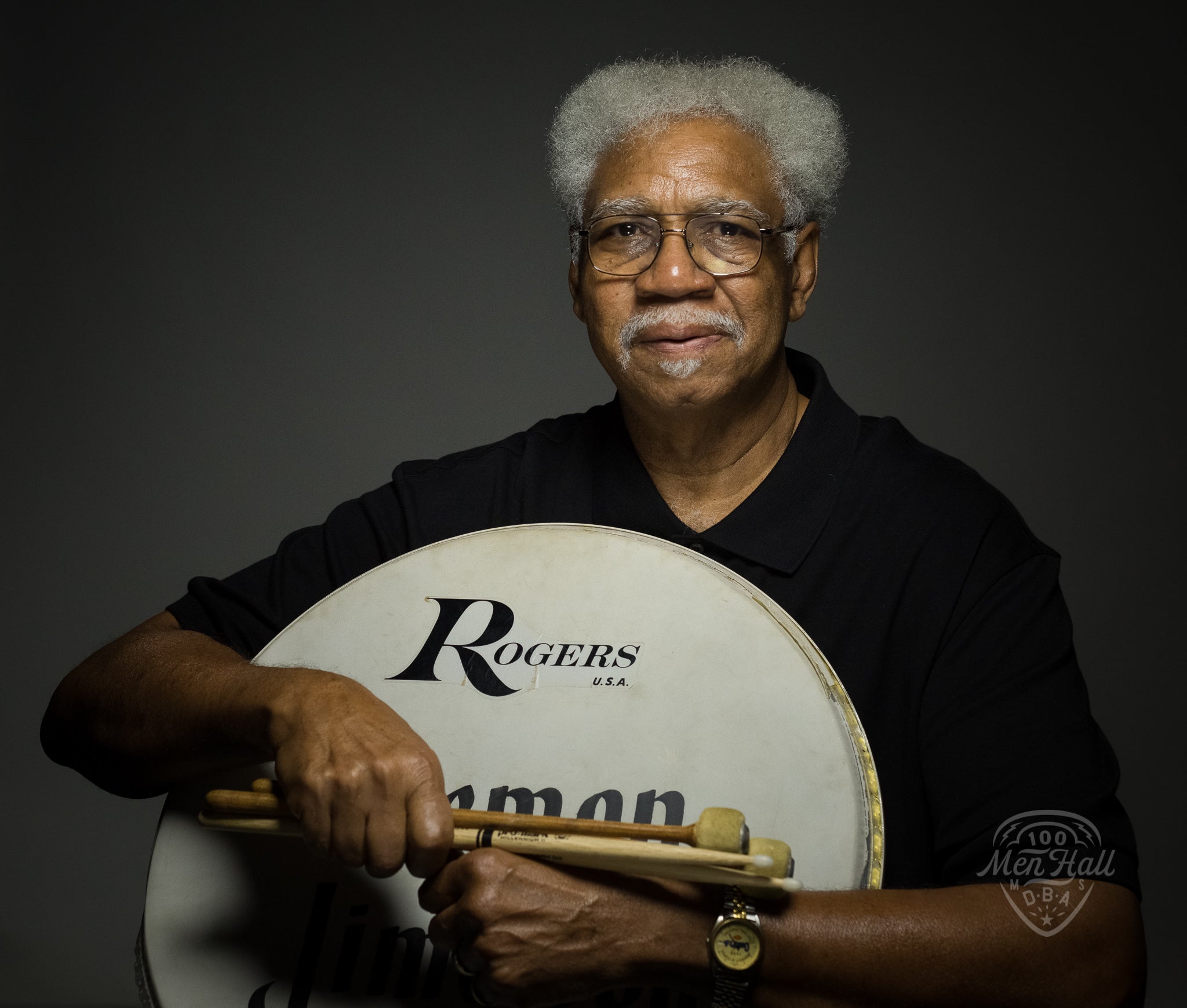 Clemon P. Jimerson, Sr.
DAY 199 Clemon "Foots" Jimerson photographed exclusively for the 100 Men Hall People Project (100MHPP). 
I was on the chitlin circuit, we'd play behind Big Joe Turner in Biloxi in the 60s. Jeanette Quinn was the vocalist for The Sounds of Soul Band. We are on the Blues marker out front. Back in the 60s I came here when I finished being a band director in Hazelhurst, MS. I put this group together at the Hall. Paul Robinson (bass) was in the band. I'm originally from Biloxi. I turned professional when I was in 9th grade. I was the only child playing with adults. The name of the band was MC Spenser and the Blue Planes, under Mordecai Spenser. We did a job up in Greenwood, Obie Right and Tyrone Davis and Jimmy Ruffin – David Ruffin (Temptations). I played the Hall back in the 60s when I was with MC Spenser, and the feature singer was Ms. Dee. And then after we put the group together, we booked and played here in the 70s. When I played here in the 60s it was job I guess, and then when I played here in the 70s it was a job, but I was exposed to music in Biloxi because right in the backyard was the Paradise Gardens where BB King, Little Milton, Fat Domino and Big Joe Turner played. I couldn't go there as a child but I could dance in the backyard. As I slept when I went to bed, I could hear the music. I'd go into the backyard and get the pecan trees and take some limbs that I would use on my grandmother's pots and pans. I stayed with her. She put me in piano lessons. The lady who taught me piano lessons was Ms. Alma Pettus and she was married to Mr. John Petus, he was one of the first African Americans that was on the school board. I realized where I got my gift so I donate my service to St. Paul United Methodist church first and second Sunday of each month. Leah Rollins plays with me there.  
 (Photo by: Gus Bennett | The 100 Men Hall People Project) 
____________ 
100MHPP RIGHTS USAGE TERMS: This official 100 Men Hall People Project (100MHPP) photograph is made available only for publication by news organizations and/or for personal use printing by the subject(s) of the photograph. The photograph may not be manipulated in any way and may not be used in commercial or political materials, advertisements, emails, products or promotions that in any way suggests approval or endorsement by the 100 Men Hall People Project or Rachel Dangermond.  
© 2019 The 100 Men Hall People Project (100MHPP) 
#100MenHall #100MenHallPeopleProject #mgcnha #heritagearea #GusBennett #Mississippi