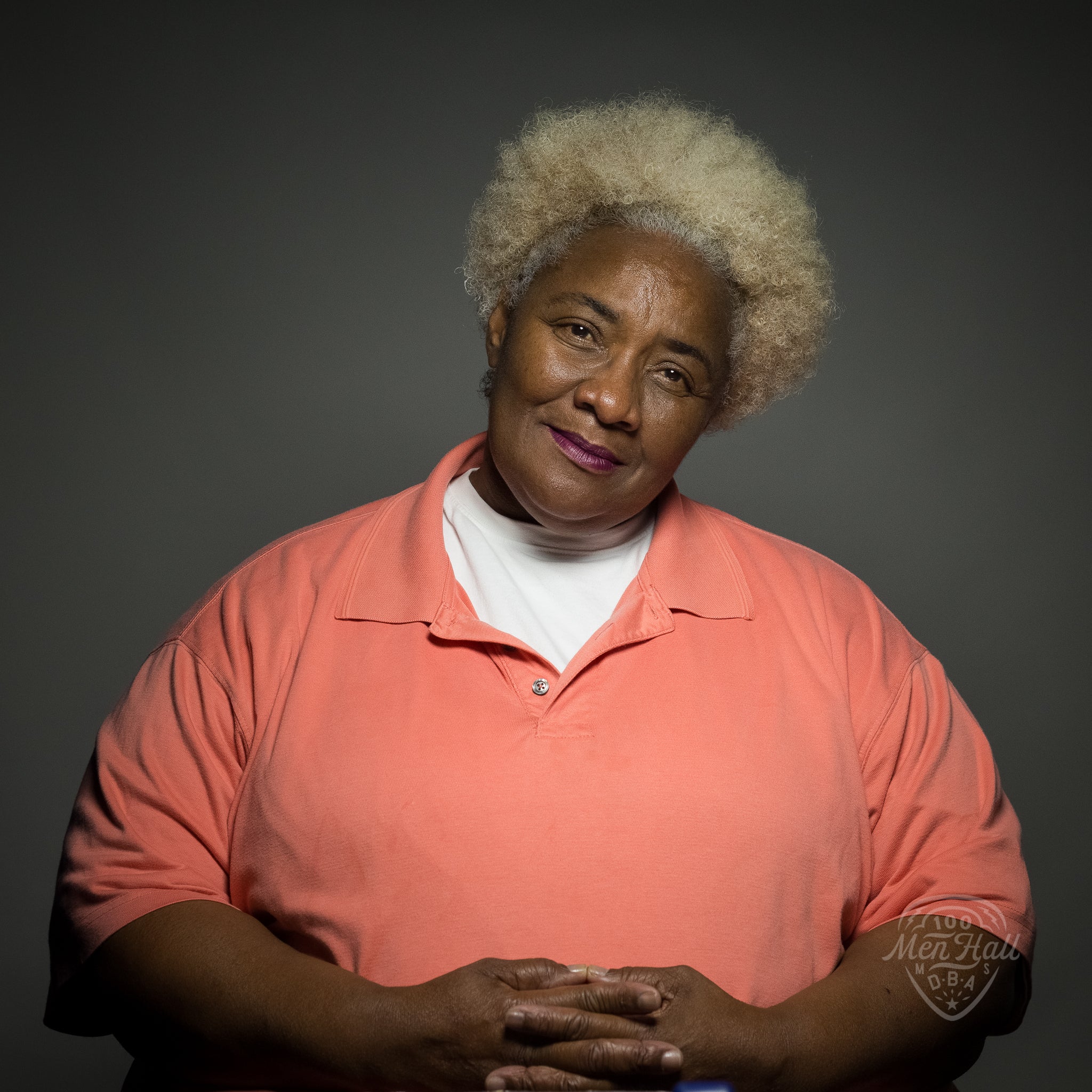 Eileen Jones
DAY 155 Eileen Jones photographed exclusively for the 100 Men Hall People Project (100MHPP). 
I used to spend the night with Lylie Nichols, when we were little girls, we were about 10 years old. It was safer back then. She had a pink and white bike, and we would ride on it together over to the 100 Men Hall and watch them dance. That was my first experience. Then I danced in there all the way up until I was a teen. When I was coming up it was Chocolate Milk that we came to hear. We used to also come here after the parade on Mardi Gras day – they would have bands, eating and dancing, it was a big free festival. And all the floats would line up and down the streets – we would go look at the floats as kids and then run from the Moss Men. My best and most enjoyable time was when me and Lylie used to sneak there as kids, we wanted to see what was going on because we knew they were having a good time in there. It started dying out in my generation – I was about 13 and we saw it fading. I was the last generation to dance at the 100 Men Hall. It blew me away when it went up for sale, another piece of Black history gone from the neighborhood, we were losing a part of your culture, but the memories remain.  
(Photo by: Gus Bennett | The 100 Men Hall People Project) 
____________ 
100MHPP RIGHTS USAGE TERMS: This official 100 Men Hall People Project (100MHPP) photograph is made available only for publication by news organizations and/or for personal use printing by the subject(s) of the photograph. The photograph may not be manipulated in any way and may not be used in commercial or political materials, advertisements, emails, products or promotions that in any way suggests approval or endorsement by the 100 Men Hall People Project or Rachel Dangermond.  
© 2019 The 100 Men Hall People Project (100MHPP) 
#100MenHall #100MenHallPeopleProject #mgcnha #heritagearea #GusBennett #Mississippi