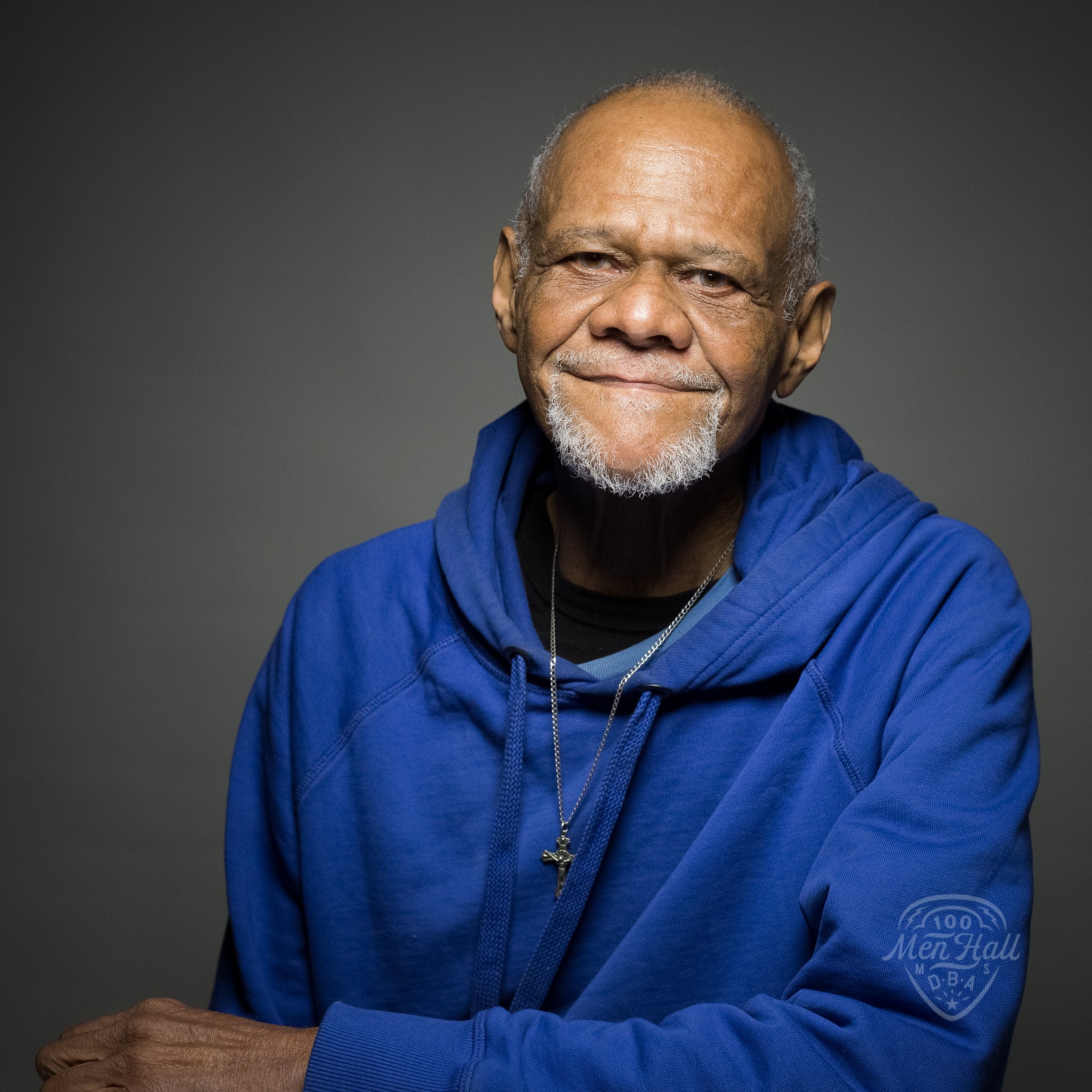 Floyd Moseley Jr.
DAY 051 Floyd Moseley Jr. photographed exclusively for the 100 Men Hall People Project (100MHPP).
My father Floyd Moseley Sr. used to book dances here. Every Easter after Lent, the first Monday he would give dances here. My father, Mr. Joe Patrick, and Mr. Whitey Joseph (Charles Joseph's uncle) all worked here. My father had diabetes in one leg and Mr. Patrick would take him where he wanted to go. My father also sold bootleg whiskey. He was the original owner of the Krack bar, and later Mr. Anthony Gilbert took it over and did some fabulous things with it. It would have been historical if it weren't for Katrina. They didn't have insurance. My father and all that crew were part of the Hundred Members group. I remember Joe Tex, Ike and Tina Turner, Ernie K Doe, Irma Thomas, J. C. Booker, Charles Brown and the Meters, the Nevilles, and Deacon John. James Booker used to come to my grandmother's house and play with our Uncle Ellsworth. He could play the piano. Every Sunday after mass they would come to my grandmother's house because she had a piano. The crew from the Alley would come (Bo and Dee, they played as regulars here at the Hall), with James Booker and Professor Longhair would come as a regular. Theola Gilber would come, she had a song called the Love of My Man, and she would play the Hall. Mitchell Saucier was a singer who used to play here. Because my dad was the one who booked the acts, I could come when I was 16 years old. Ernie K Doe and Irma Thomas were acts I remember the most. I moved away from here in '68 and came back in '73 and left again in '86. My son Dinon Benoit is well known because he does a lot of community service. The only thing about this place is that it seems small compared to when I was young because they had round tables along the right side with booths on the left side. And we danced in the middle. Uncle Ellsworth Collins played in a band called Boots Alexis. 
(Photo by: Gus Bennett | The 100 Men Hall People Project)
____________
100MHPP RIGHTS USAGE TERMS: This official 100 Men Hall People Project (100MHPP) photograph is made available only for publication by news organizations and/or for personal use printing by the subject(s) of the photograph. The photograph may not be manipulated in any way and may not be used in commercial or political materials, advertisements, emails, products or promotions that in any way suggests approval or endorsement by the 100 Men Hall People Project or Rachel Dangermond.
© 2019 The 100 Men Hall People Project (100MHPP)
#100MenHall #100MenHallPeopleProject #mgcnha #heritagearea #GusBennett #Mississippi