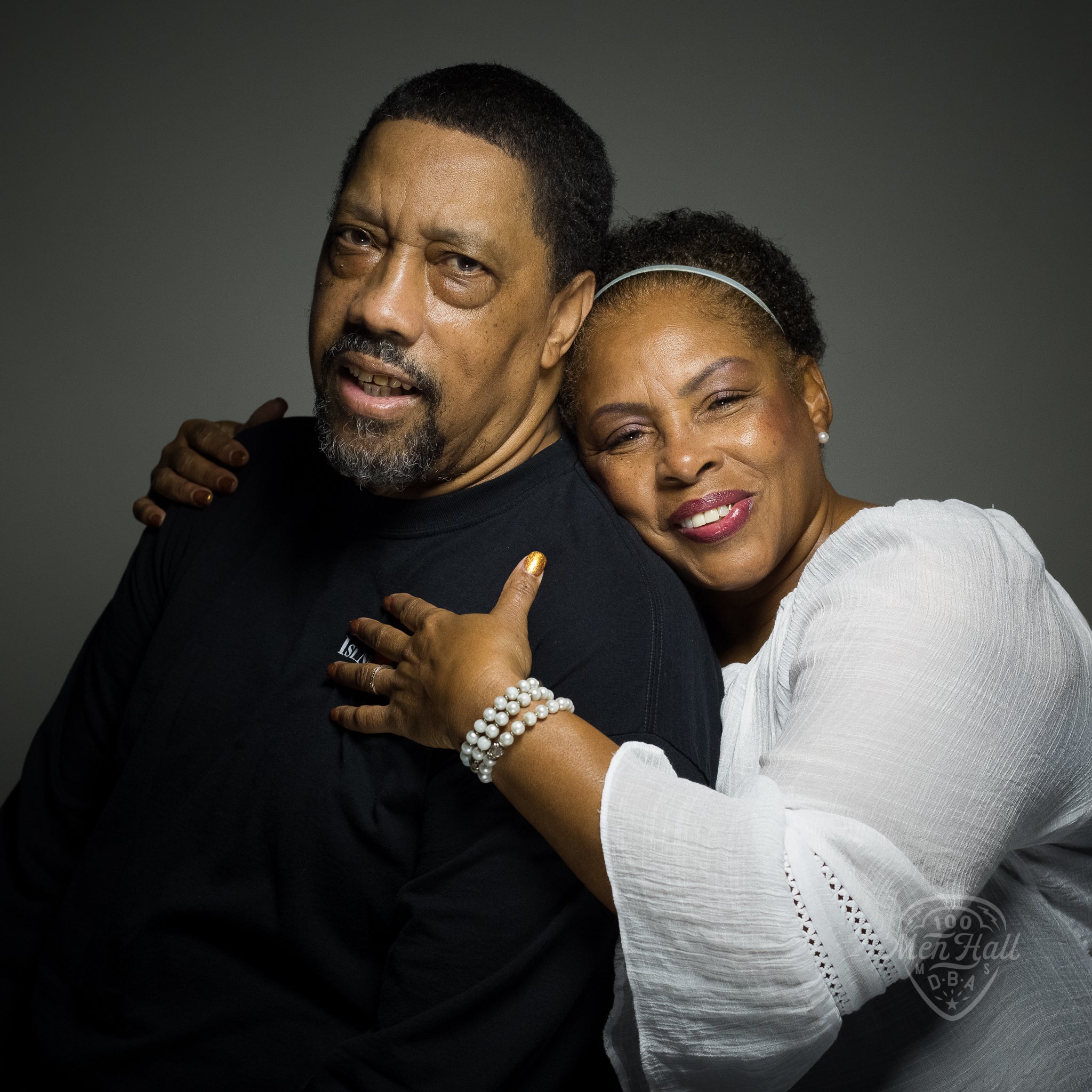 Golden and Russell Fairconnetue
DAY 031 Golden and Russell Fairconnetue photographed exclusively for the 100 Men Hall People Project (100MHPP).
Russell – I didn't know too much about the Hall till I was 16 or 17, they had all these dances and I didn't miss too many of those. My dad and mom used to come to dances, and events that they had here. We would come to events here as children. Big Joe Turner, Joe Tex, Joe Simon, King Floyd, Irma Thomas (she played a lot here), Jean Knight, and many more. This was the biggest place; it was huge and so many people were here of all ages. For the dances, the atmosphere was good; I had a lot of friends and family here. We partied. There was a dance every week. I always wanted a surprise party, and I had one at the Hall this December 2018. Guitar Bo could play a guitar and he had this little thing he could do with his mouth like a trumpet. Bo and Dee had a huge following from also the white community.
Goldie – My first involvement with the Hall was the Children of Friendship organization, which was a self-insurance association. We'd pay our 50 cents and get our name on the book and if we needed help with medicine they'd help us. My mom and them had civic balls and the Merry Maker and we would dance as the entertainment in the Hall. So I grew up in here. My grandparents, Ms. Eretta Holmes used to cook in here. She would book entertainers for the Hall. There were dances even on Monday. She booked Big Joe Turner, Joe Simon (one of the favorites), Jimmy Hughes, Betty Wright, and Barbara Lynn (left hand guitar player). My aunt and them used to dance; they were like the go go girls. The dancers were Marcella Lanaux, Brenda Green, and Emmaline McKay. They'd wear little tassels and shimmy dresses.
(Photo by: Gus Bennett | The 100 Men Hall People Project)
____________
100MHPP RIGHTS USAGE TERMS: This official 100 Men Hall People Project (100MHPP) photograph is made available only for publication by news organizations and/or for personal use printing by the subject(s) of the photograph. The photograph may not be manipulated in any way and may not be used in commercial or political materials, advertisements, emails, products or promotions that in any way suggests approval or endorsement by the 100 Men Hall People Project or Rachel Dangermond 
© 2019 The 100 Men Hall People Project (100MHPP)
#100MenHall #100MenHallPeopleProject #mgcnha #heritagearea #GusBennett #Mississippi