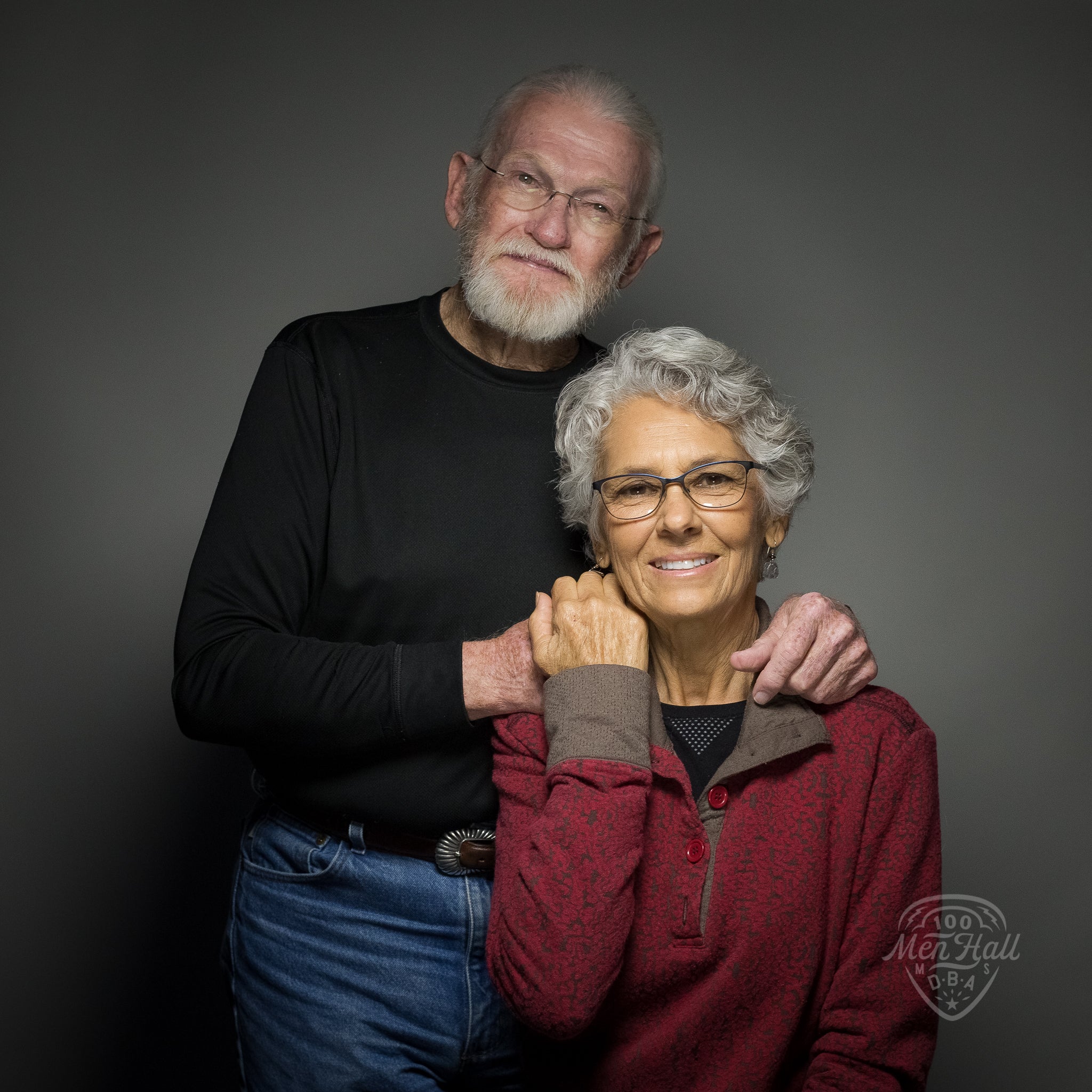 Jerry "Fish" and Melva Fisher
DAY 019 Jerry "Fish" and Melva Fisher photographed exclusively for the 100 Men Hall People Project (100MHPP).
I've known about the Hall my whole life. We were raised right around the corner. I graduated in 1965, so I barely remember the Hall. I left town for college and became a stewardess and then Fish and I came back in 1976 and opened the Dock ("Dock of the Bay" was a restaurant and nightclub owned and operated by the two from 1976 to the spring of 2005) and worked all the time. After Kerrie and Jesse opened we came to hear the bands here. They were always gracious when we had friends in from out of town. I would tell them my mom and daddy would talk about this place. We sold the Dock in '05 and since then we are gone half of the year. So we have missed out on a lot of great things. Today is my daddy's birthday, he would have been 99 and here we are in the 100 Men Hall. (Fish is an American R&B singer – Texas-born and Oklahoma-reared – known internationally for being the lead vocal with Blood, Sweat & Tears from 1971 to 1975, known to Dallas music fans for his R&B gigs from 1964 to 1972.)
(Photo by: Gus Bennett | The 100 Men Hall People Project)
____________
100MHPP RIGHTS USAGE TERMS: This official 100 Men Hall People Project (100MHPP) photograph is made available only for publication by news organizations and/or for personal use printing by the subject(s) of the photograph. The photograph may not be manipulated in any way and may not be used in commercial or political materials, advertisements, emails, products or promotions that in any way suggests approval or endorsement by the 100 Men Hall People Project or Rachel Dangermond.
© 2019 The 100 Men Hall People Project (100MHPP)
#100MenHall #100MenHallPeopleProject #mgcnha #heritagearea #GusBennett #Mississippi