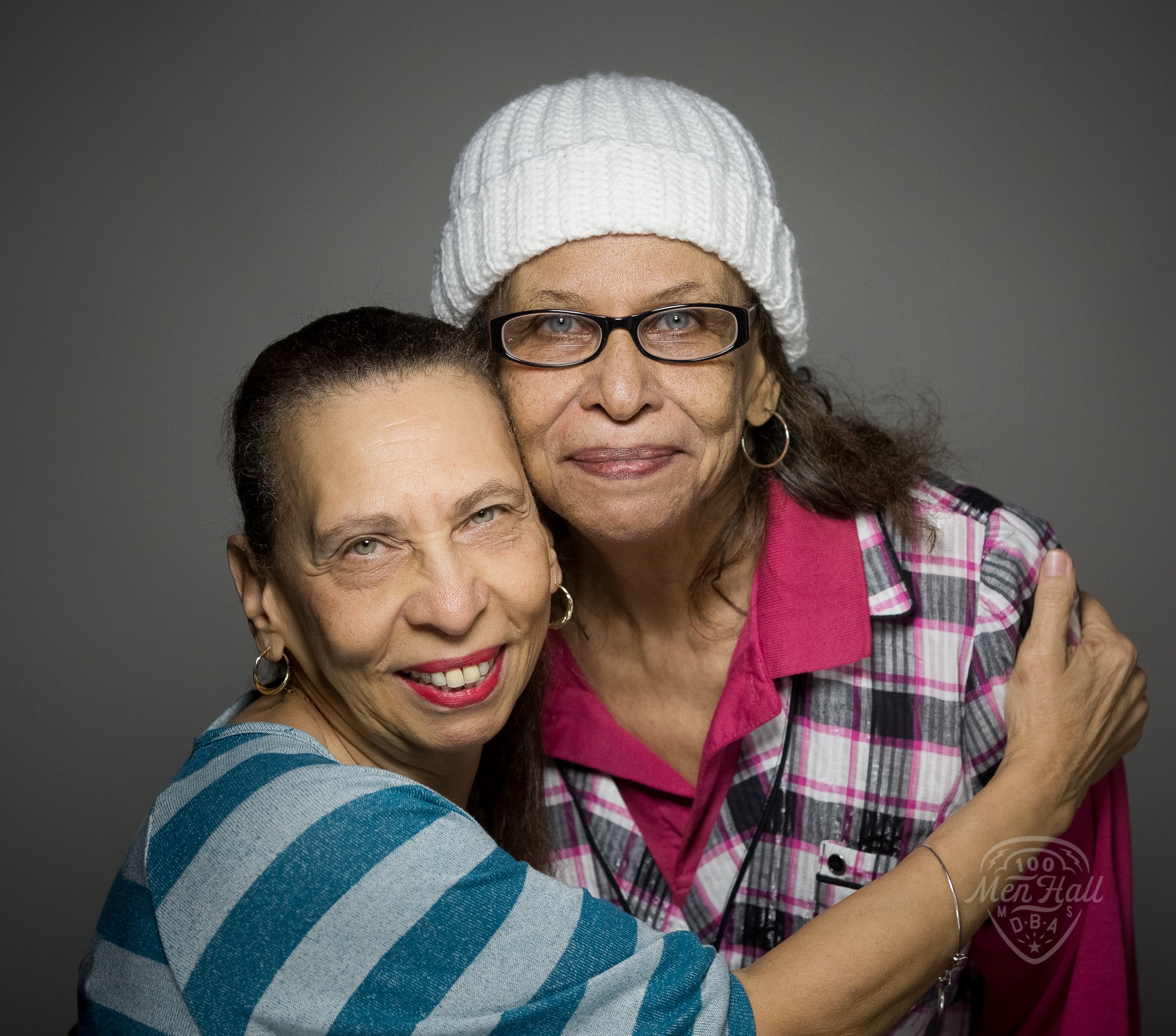 Lucille Ann Williams and Patrice Williams Tryman
DAY 004 Lucille Ann Williams and Patrice Williams Tryman photographed exclusively for the 100 Men Hall People Project (100MHPP).
Ann - My great grandfather was John L. Collins, one of the founders on the cornerstone of the Hall. His son Oscar Collins was married to Arsene Collins. My parents were Lucille Collins Mosley and my stepfather Floyd Mosley. He would book a lot of bands here like Fats Domino and Etta James. They came to the Hall for dances, Mardi Gras balls, and different things. After I got married in the late 60s, I came to the Hall. My best memory was standing outside when Etta James was here but we were too small to come in. We could hear her; it was loud and she sang At Last.
Patrice – They had the Mason lodge here. I don't recall the date. They had the Mardi Gras coronations here and I was tailgating on with some friends, sisters, Joann Williams and Elizabeth Williams (they had the same last name, but we were just friends), who sang at the coronation and I couldn't sing a lick. We were in seventh or eighth grade. We sang Come See About Me and Going to the Chapel. I never came by myself because I moved away from BSL at the end of my junior year. I didn't have the opportunity to sneak into dances like my sisters and brothers did. My whole recollection was everything related to Mardi Gras at the Hall.
(Photo by: Gus Bennett | The 100 Men Hall People Project)
____________
100MHPP RIGHTS USAGE TERMS: This official 100 Men Hall People Project (100MHPP) photograph is made available only for publication by news organizations and/or for personal use printing by the subject(s) of the photograph. The photograph may not be manipulated in any way and may not be used in commercial or political materials, advertisements, emails, products or promotions that in any way suggests approval or endorsement by the 100 Men Hall People Project or Rachel Dangermond.
© 2019 The 100 Men Hall People Project (100MHPP)
#100MenHall #100MenHallPeopleProject #mgcnha #heritagearea #GusBennett #Mississippi