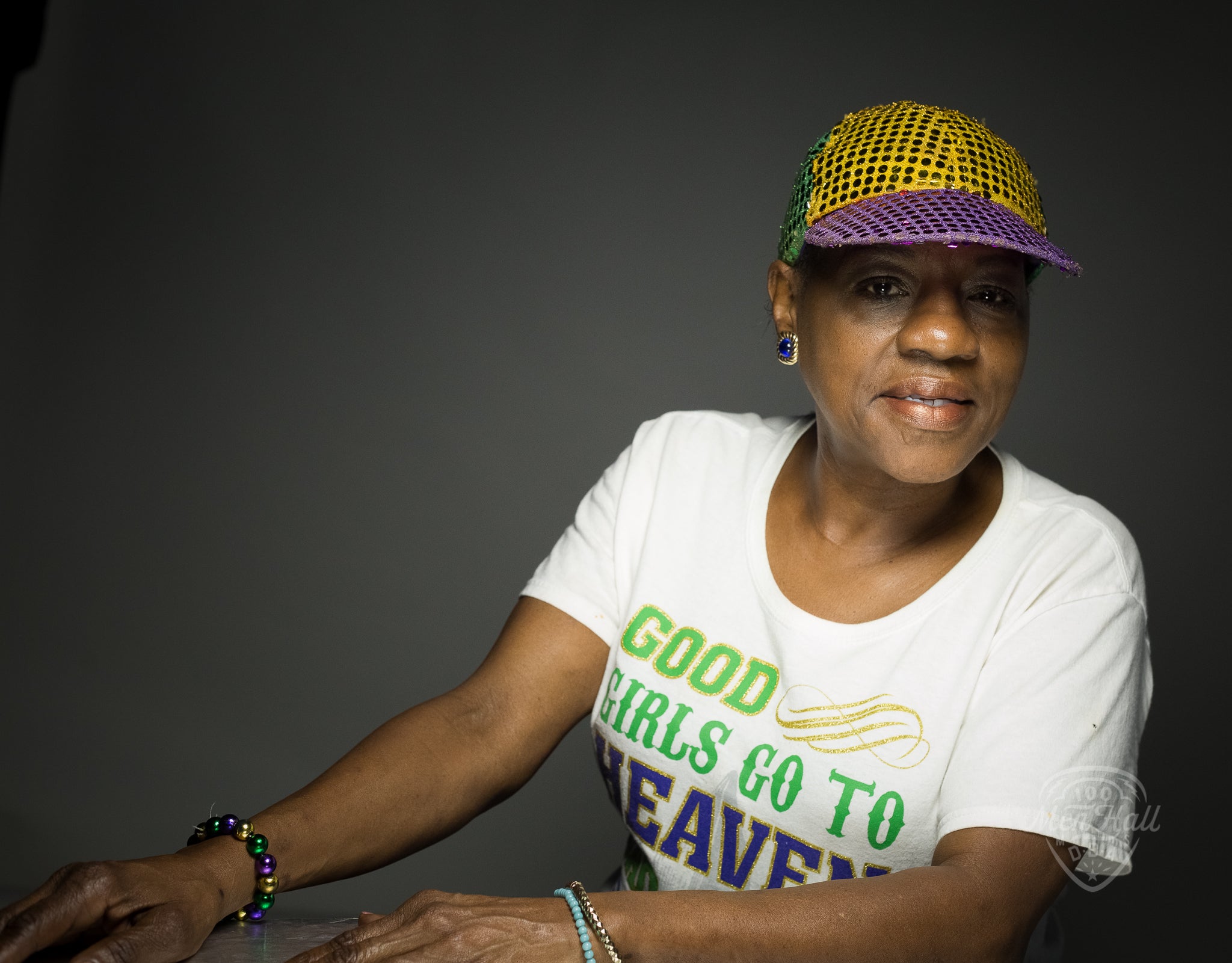 Queen Isabella Williams
DAY 192 Queen Isabella Williams photographed exclusively for the 100 Men Hall People Project (100MHPP). 
I go back to when I was a little girl about 12 and I was coming to the Tom Thumb coronation balls for the kids. I would come with my nanny (godmother) Alvina and her daughters, Sylvia and Goldie. December of 1966 my mother's house burned to the ground, my brother was going to be two years old, there was seven of us and in order not to be separated, my nanny Alvina and Catherine Ishem talked to the Hundred Men organization that was over the Hall. Until my mother could find us a place, we came and lived here. I was 14 years old. I never did attend dances here, we would go to St. Rose for dances. We always walked passed here. My mother wouldn't let me go. When I got out of high school I left Bay Saint Louis and went to California. When I got back I attended a wedding here – Earl and Darlene Robinson's. I also attended a wedding reception for my sister in law Marinda Williams, the daughter of the late, John Mose and Doris Williams. This was in the '80s. I was at Hancock Bank and Ms. Doris came into the bank and told me about the wedding. A lot of Black people had nowhere to go on the Coast - this was it.  
 (Photo by: Gus Bennett | The 100 Men Hall People Project) 
____________ 
100MHPP RIGHTS USAGE TERMS: This official 100 Men Hall People Project (100MHPP) photograph is made available only for publication by news organizations and/or for personal use printing by the subject(s) of the photograph. The photograph may not be manipulated in any way and may not be used in commercial or political materials, advertisements, emails, products or promotions that in any way suggests approval or endorsement by the 100 Men Hall People Project or Rachel Dangermond.  
© 2019 The 100 Men Hall People Project (100MHPP) 
#100MenHall #100MenHallPeopleProject #mgcnha #heritagearea #GusBennett #Mississippi