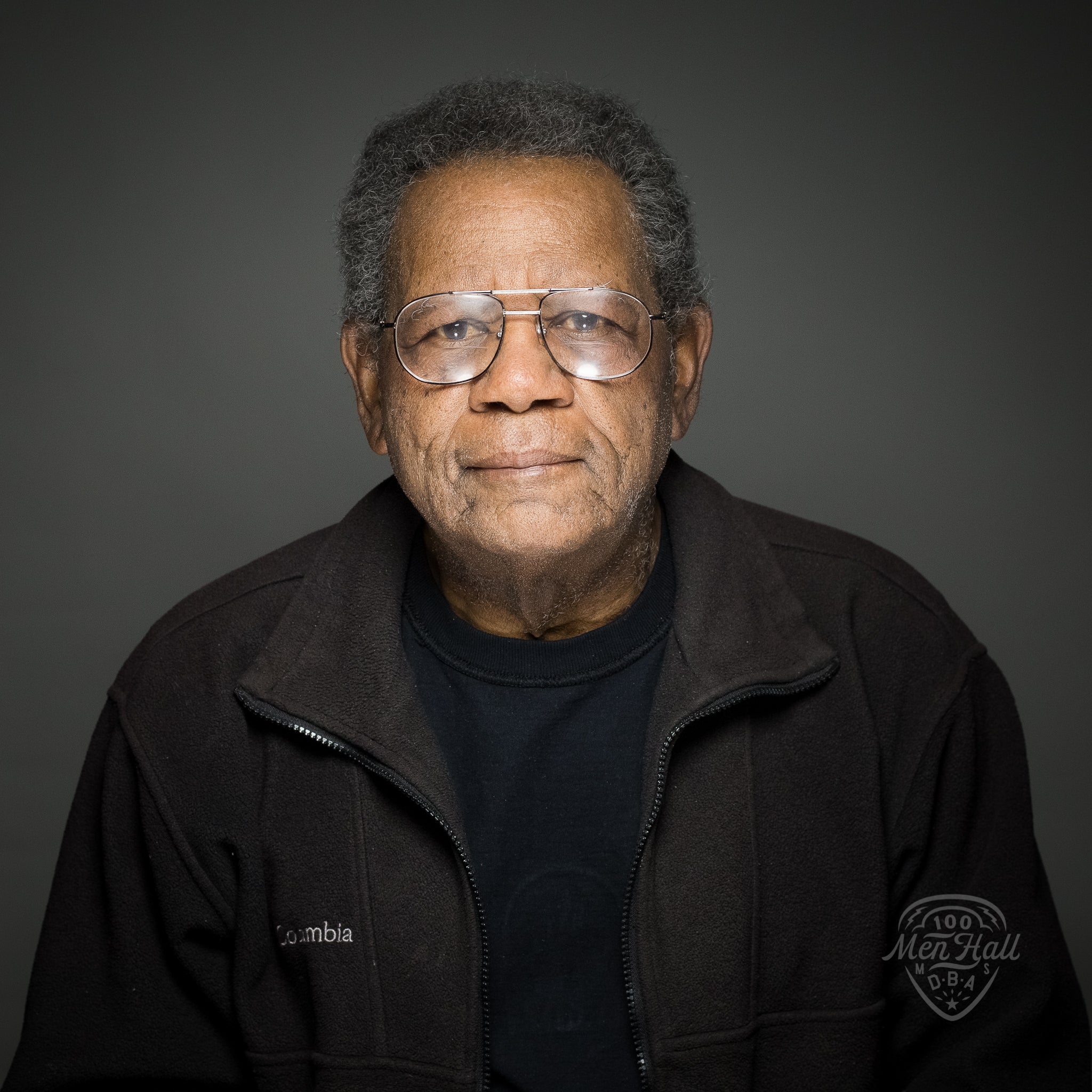 Rudolph C. Rosemond
DAY 204 Rudolph C. Rosemond photographed exclusively for the 100 Men Hall People Project (100MHPP). 
My mother used to come to the Hall as a kid because her parents were coming here. Her mother, born in 1903, brought her here from New Orleans when she was nine years old. She married James Rosemond in Bay Saint Louis in 1924. She was in the [Hundred Members] organization and came to the dances and events all the time. We came here all the time. My mom was in the Mardi Gras ball here and had to leave on Mardi Gras day to deliver me on March 1, 1938. I came here when I was a kid, about six or seven years old; they had events here. There was a basketball game here. They set it up as a stadium and had a professional basketball team, it wasn't the Globetrotters but it was a universal team like the Globetrotters playing adults here. Barnstorming is what they called it. They would go around to different areas. I used to come to the dances when I was 12 years old, we would sit on the steps and look through the door and we tried to sneak in and they would run us out. When they had shows like the manless weddings and skits I would come. Everyone would come here for entertainment like a theater. There was a membership organization where I came every month and pay your dues. They had insurance and all the families paid, and we had to come in and sit in the meeting room (the kitchen) every month. The parents made us go whether we wanted to or not. They would discuss with an agenda how to go about paying someone's bill or someone needed help. They would see what the funds were to help people. Everyone was in it, my sister, my mama, and they met monthly and everyone attended, adults and kids. The dances and the shows and entertainers were what I remember most. I remember Ben E. King, Fats Domino, Little Richard when he first came out (I forgot the name of the song), Etta James (I remember the dances with her playing). My nephew, Russell [Nichols], was the last of the Hundred Members, but I was out of town and didn't know when it was sold. But the organization helped a lot of people. My sister Alvina Nichols promoted dances here. She had some professionals and some locals.  
(Photo by: Gus Bennett | The 100 Men Hall People Project) 
____________ 
100MHPP RIGHTS USAGE TERMS: This official 100 Men Hall People Project (100MHPP) photograph is made available only for publication by news organizations and/or for personal use printing by the subject(s) of the photograph. The photograph may not be manipulated in any way and may not be used in commercial or political materials, advertisements, emails, products or promotions that in any way suggests approval or endorsement by the 100 Men Hall People Project or Rachel Dangermond.  
© 2019 The 100 Men Hall People Project (100MHPP) 
#100MenHall #100MenHallPeopleProject #mgcnha #heritagearea #GusBennett #Mississippi