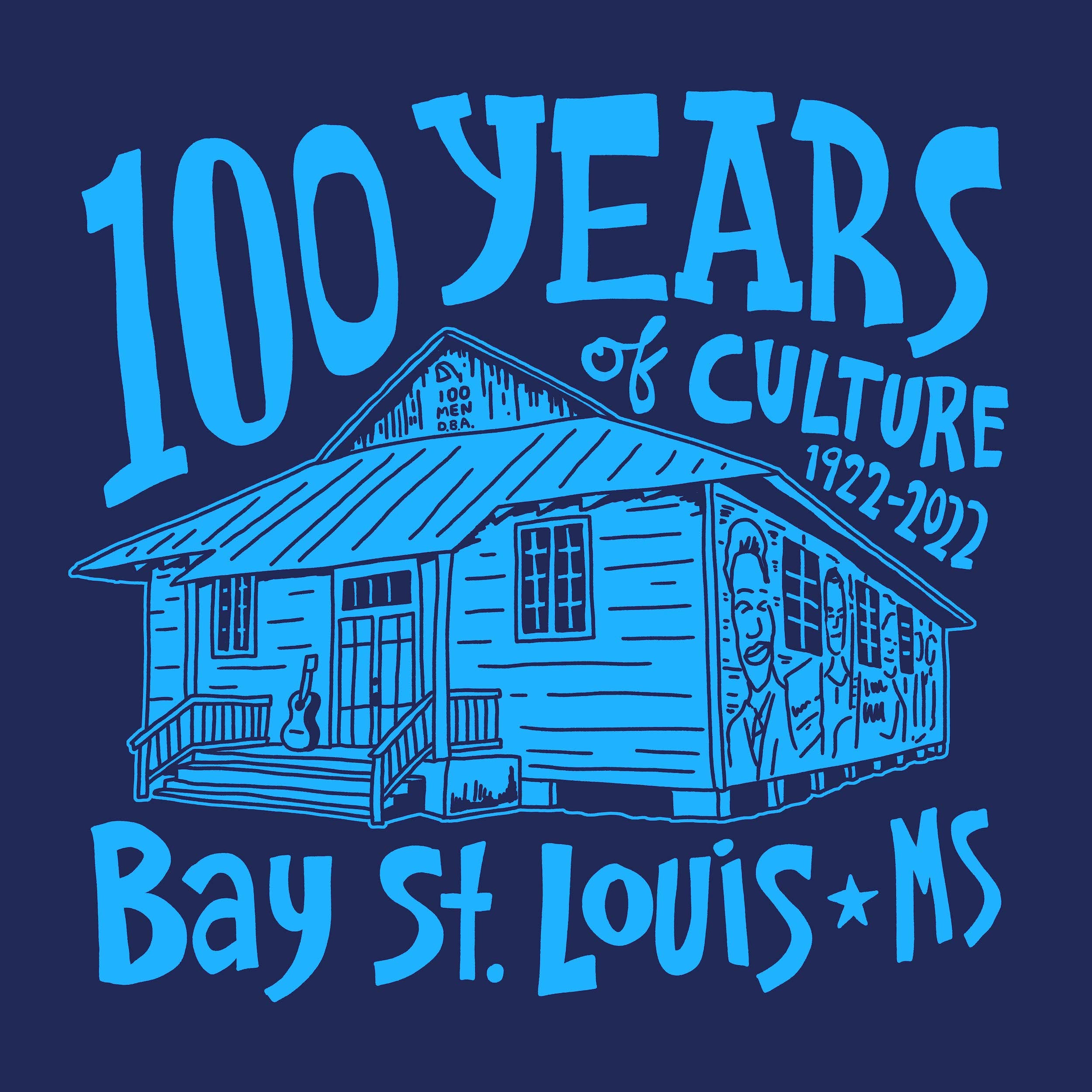 100 Men Hall the First Century
The First Century was originally published in the BSL Shoofly here.
https://www.bslshoofly.com/archives/100-men-hall-the-first-century
100 Men Hall the First Century
This year marks the 100 Men Hall's centennial, quite a feat for a building that has survived Jim Crow, segregation, Hurricanes Camille, Betsy, Katrina and Zeta among the many forces that seemed destined to destroy it. Although the reason for its creation now seems to belong to a time long ago, the Hall still stands as a beacon for African American ingenuity and survival skills.
In 2018, I bought the Hall and resurrected the nonprofit that was registered in 1894 by twelve civic minded men. It would have been easier to create a new one, goodness knows, but that would not have served the Hall's narrative. The nonprofit is the beginning of its story, about the men who came together for cooperative economics – Ujamaa – one of the seven principles that Kwanzaa celebrates each year in the African American community. The environment at that time was hostile to the African American community, who only asked to enjoy the same benefits of society as everyone else.
In 1922, one of the founding men bought this land, almost an acre, near St. Rose de Lima and the train depot and the organization constructed the 100 Men Hall. Built by and for the community, it was here that Black joy found a home to be celebrated in all of its incarnations, whether it be art, culture, entertainment, music, dance, food, ceremony, brotherhood, sisterhood or each life event that transpires in a small coastal community. This joy still vibrates through this sacred space and everyone notices when they walk through the doors. I cannot count on both hands the people who have told me the hairs on their arms stand up as they read the chalkboard with the Hall of Fame musicians who have played here.
Days after my son and I moved in, I attended a gathering at Ellis Anderson's home with people from the Mississippi Heritage Trust workshop, which was being held at the Hall among my unpacked boxes. A photographer there asked me what my intentions were for the Hall. I said I had bought it as a place to expand my writing workshops and racial dialogue, but once I moved in, I now felt compelled to bring Black back. This "bring Black back" was a refrain I had heard New Orleans artist Sunni Patterson repeat in a spoken word piece that had stuck with me.
The photographer took a step back and asked skeptically, "How do you suppose you'll do that?" To him, I must have appeared only a white woman with enough money to buy a piece of real estate, but from the get-go, I had known the 100 Men Hall was not just a transaction, it was a calling. Although I had been active in racial equity in the New Orleans community for many years, it was not until I adopted my African American son in 2009 that I heeded my own civic calling to be part of reparations, which we owe to a community historically disenfranchised through slavery and a persistent strain of racism.
One thing community activism had taught me is that most of what gets done in this country is done by women sitting around a kitchen table trying to figure out how to heal what's hurting people. This experience led me to form the 100 WOMEN DBA, the membership organization
that today supports the preservation and maintenance of the Hall. The membership is composed of dues paying and legacy members with a mission to uplift girls and women of color in Hancock County. This year, we are awarding our first scholarships for Bay and Hancock High Schools.
The men who penned the 1894 bylaws codified more than civic duty; the organizers also desired to knit friendships in the Hall and that purpose continues to be our invitation. After moving here, I met a community fiercely supportive of the vision for inclusion, culture, service and a damn good time. We come together to listen to live music, celebrate and elevate different culture, and to follow the lead of the Hundred Men and their families who knew the most enjoyable way to expand awareness is to express yourself joyfully. The 100 WOMEN DBA marched together for the first time in 2019 with the Krewe of Real People The Next Generation, a derivation of the oldest Black krewe on the Coast and marched again in 2020 for Black Lives Matter. We are thankfully able to gather together in the Hall once again on the regular.
I now feel my and my son's story intersect with the Hall's so that we could steward in its next chapter and broadcast its narrative to a wider audience who need to hear a more nuanced story of Mississippi. This story telling will not be done by one person alone, it must happen in lock step with this community, our donors and sponsors, the 100 WOMEN DBA, and all of the artists, musicians, performers, writers and publications like Shoofly Magazine who help us tell the amazing story of the 100 Men Hall, about how it came to be and how it is.
Get ready for 2022 - we plan to raise the roof to celebrate the momentous occasion of the first 100 years of the 100 Men Hall! To begin, we hosted the Krewe of Real People TNG's ball here on Saturday, February 26, 2022 and what joy to see the Hall's founders' descendants dancing and having a blast! Stay tuned, because we have so much more to come!
We are honored to usher the 100 Men Hall into its next 100 years by celebrating over four themed weekends that highlight four distinct eras: Ancestors (June 17-19, 2022), Harlem Renaissance (Feb 2023), Chitlin Circuit (Fall 2022) and Rise of the DJ/Disco (June 17-19, 2023). Make sure you subscribe to the email list at 100menhall.com to find out more about these fantastic weekends at the Hall. During the entire month of June 2022, the Hall is hosting A Blues Chronicle, a marionette workshop for children that will culminate in a performance chronicling each decade of the 100 Years of the 100 Men Hall (musician Jimbo Mathus and artist Dale Pohl will lead the workshop). The project is supported by the MEMBERS of Coast Electric through Operation Round Up and their Community Trust, in partnership with the Gulf Coast Community Foundation.
by Rachel Dangermond