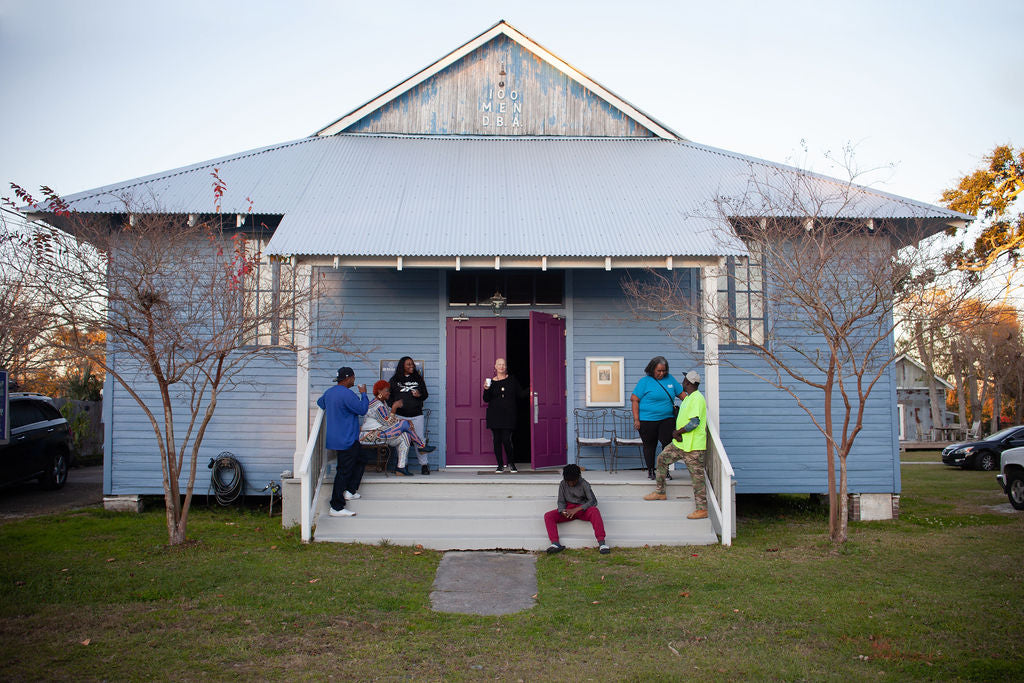 100 Years at 100 Men Hall
This article was first published in the MS Coast National Heritage Area magazine here.
https://issuu.com/mscoastnha/docs/ms_coast_nha_newsletter_spring2022?fbclid=IwAR1YOZQiTi8K3zLyjgId0VZi_89wp0huDFVbsUQ8KJitERvb54p_OIeQrSQ
100 years ago, the vision of 12 civic-minded men became a reality when the doors of 100 Men Hall opened in Bay St. Louis. Not only still standing, the revered landmark actively serves Mississippi's Gulf Coast as a cultural venue, hosting live music events, artists' presentations, private celebratory events and unique workshops for children and adults.  Located in BSL' historic district, 100 Men Hall is located across the railroad tracks from the community's famed L & N Train Depot, constructed in 1928, six years after 100 Men Hall.
In 2018, 100 Men Hall changed ownership, and with the support of an engaged, enthusiastic Board of Directors and Membership Organization, is as determined to maintain the venue's treasured African American history as is to ensure the Hall thrives today as a lively, vital Gulf Coast attraction for all.  This summer's centennial celebration will kick off a year-long series of events designed to embrace both its history and its future.
The aforementioned 12 civic-minded men were African Americans who came together to form a benevolent society to take care of their community, who until the 1960's, were denied access to burial and medical insurance.  The "Hundred Members Debating Benevolent Association" was organized to "assist its members when sick, bury its dead in a respectable manner and knit friendship."
From the nonprofit organization grew a desire for a place to gather and celebrate all life events, and when, in 1922, the 100 Men Hall was built, it quickly came to be the epicenter of Black life and culture for the MS Gulf Coast.  Talented musicians barred from performing elsewhere were welcomed and their performances supported cooperative economics. Over the years, legendary musicians such as James Brown, Etta James, and Ray Charles took the stage of 100 Men Hall that grew to be a stop on the famed Chitlin' Circuit.
The nonprofit's mission shifted to include the promotion and preservation of the Hall, that had grown to become a nexus of social justice and artistic expression for a population historically denied access to both in the Jim Crow South. A notable structure with an important story, the Hall represents a rare architectural monument to African American life on the Gulf Coast and is one of the few standing sites on the MS Blues Trail and within the MS Gulf Coast National Heritage Area.
The 501c3 nonprofit – still using the name "Hundred Members Debating Benevolent Association" – has returned the Hall to a meaningful role in the community, and today's vision mirrors that of its original founders: to form a bridge between its original mission and the current needs of the community. In 2019-20, through a MS Gulf Coast National Heritage Community Grant, the Hall was able to strengthen its bond to the community through the 100 Men Hall People Project (https://the100menhall.com/blogs/100-men-hall-people-project), promote the Hall through a visual storyboard painted as a mural on the side of the building (https://the100menhall.com/blogs/the-mural-project) and foster its heritage with the addition of a visiting musician/artist cottage in the Tin Shed (https://the100menhall.com/blogs/tin-shed).
Today, the Hall serves as a living heritage museum that carries the unique cultural and musical history particular to the Gulf Coast into the 21st Century through live music and cultural events. Its membership organization – 100 WOMEN DBA (https://the100menhall.com/blogs/100-women-dba) – fosters civic participation in a variety of causes to promote the greater common good, supporting creative expression and activist art for women of color who have struggled to find a mainstream connection due to their social or artistic convictions, or minority status.
Those familiar with the Hall consider it a beloved community treasure; those learning about it for the first time are instantly captivated by its storied past. Having survived social and environmental events such as Camille (1969), Katrina (2005) and Zeta (2020), the Hall's year-long, Centennial Celebration will extend from June 2022 to June 2023 with community events to engage people of all ages in its history, significance, and mission.
To find out more about the Hall and upcoming events, add your name to our email list on our website - https://100menhall.com.
By Rachel Dangermond
Photo by Ann Madden