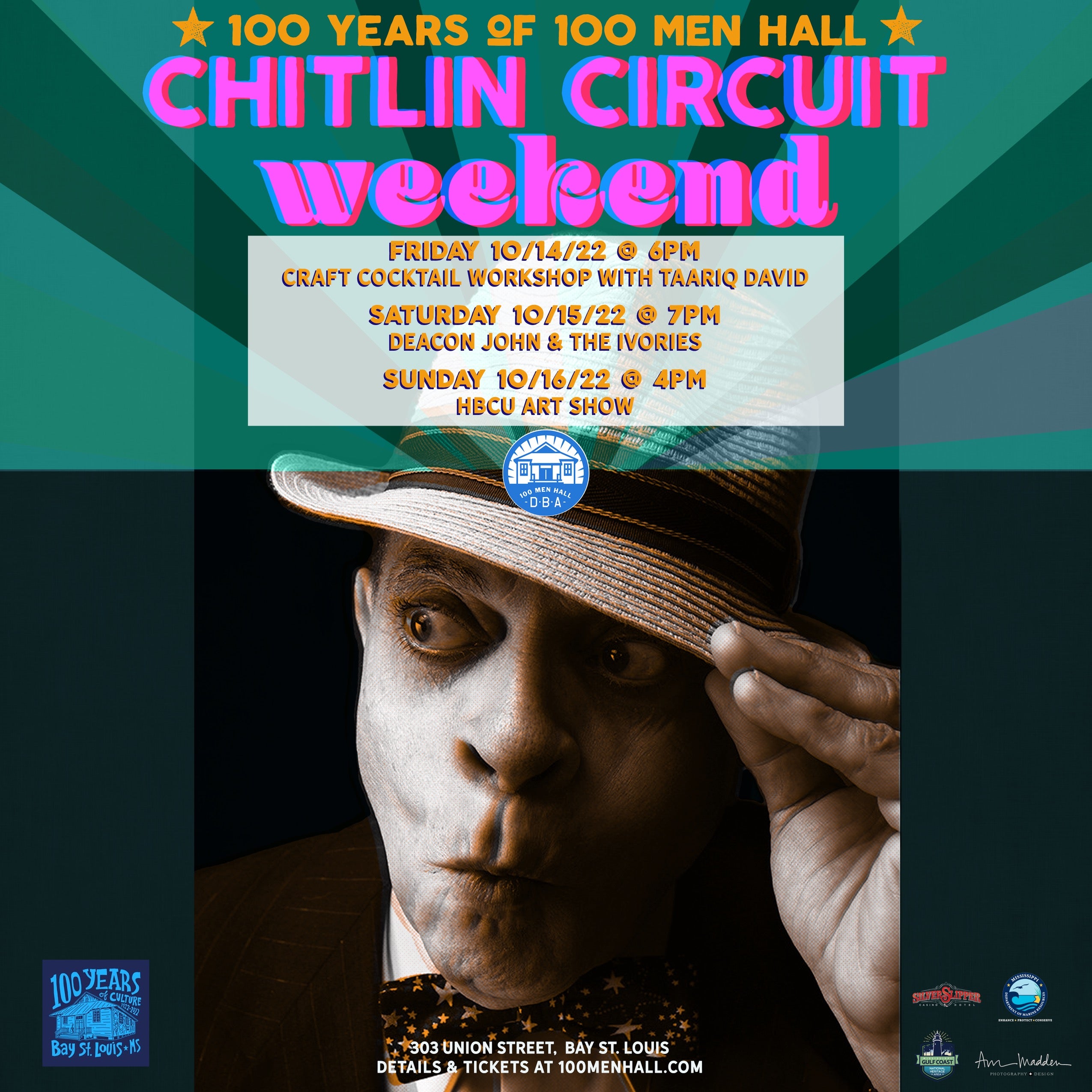 CENTENNIAL - Chitlin Circuit Weekend
The Hall's dance floor was the most crowded I had seen in a while, and these old wooden floors have seen some crowds. I tapped Curtis and told him to dance with me because I heard the band cueing up for a slow song. We had been dancing to fast songs most of the night!
Curtis Lassere is a tall, handsome man and a Southern gentlemen, so I knew he'd know how to dance. Curtis took my hand and as he embraced me for our dance, I tippy toed up to his ear to whisper: I'm not a great follower. As if on cue, he firmed up his grip and directional signals. 
Deacon John was on stage and had strapped on his guitar and was leading his band, The Ivories, into a soulful rhythm. We moved along the dance floor with the blue teardrop lights twinkling in front of the velvet curtains on the stage and the disco ball throwing dashes of light that followed us as we stepped in and out to the beat. I was caught up in the moment of this momentous occasion, the Hall's Chitlin Circuit weekend to celebrate its centennial birthday, and I didn't realize that the song Deacon John began to sing was Many Rivers to Cross. 
I was suddenly transported back a dozen years ago to a crisp fall day in a small cemetery that stood in the clearing of the Loblolly Pine woods. My grandma, uncle and cousin are buried there, and my mother has joined them. She passed on November 30, 2009, which was a Monday and the following Monday, I met my son. He was nine months old.
One year later, in accordance with Jewish custom, I held a memorial for the unveiling of my mom's headstone. Deacon John stood beside me with a guitar strapped to his chest and sang, Many Rivers to Cross, and as my toddler son hummed around the grass trying to zip up his coat, I was caught by how fast and furious one year of grief and one year of joy sprung out of me in shoulder shaking sobs while my family and friends looked on with sympathy. 
Flash forward a dozen years later, where I, past midlife, have taken on the role of impresario of the 100 Men Hall, a legendary stop on the Chitlin Circuit, a Black energy center from back in the day, and where I live with my son who is now a teenager and where I run the nonprofit the ancestors started in 1894 - and on the wooden dance floor, with Curtis holding me tight with so much love and light, I cried out a similar mix of joy and grief as I wished my mother could see me now, longed for her to see my son now. In that strange timeless place where my mother has existed for too long now, I felt her presence. 
I tippy toed up to Curtis' ear again and said, "He played this at my mom's memorial. Bear with me, I'm having a moment." Curtis responded by circling his arms around me firmer - containing all my joy and grief and tears - I felt held in the moment of so much joy this Hall has brought me, so much love music has always offered me, yet still fluid in time as if I was just a grasp away from being able to touch my mother's arm. Instead, I reached and touched my New Orleans' friend Cavanaugh's arm as he danced by us, and then it was Cecile's arm I grazed as she said with a giddy smile, "He played at my debutante ball!" And Deacon kept singing:
Many rivers to cross
And it's only my will that keeps me alive I've been licked, washed up for years And I merely survive because of my pride
Deacon John & The Ivories went on to play two sets that night. At 81 years old, he was on stage from 7PM to 10PM packing the dance floor end to end, while others danced in their seats. This was a true celebration of the 100 Years of the 100 Men Hall. 
Alan Watts said: "We thought of life by analogy with a journey, a pilgrimage, which had a serious purpose at the end, and the thing was to get to that end, success or whatever it is, maybe heaven after you're dead. But we missed the point the whole way along. It was a musical thing and you were supposed to sing or to dance while the music was being played."
Dontcha just know the Black folks who built and made the Hall already carried this wisdom in their DNA?  
Thank you MS Coast National Heritage Area for backing this 100 Year programming that we have divided into four weekends: Ancestors, Chitlin Circuit, Harlem Renaissance, Rise of the DJ/Disco. Thank you, John Ferrucci and Silver Slipper Hotel for matching the grant funding. Thank you all my friends and volunteers who make this place hum and who show up to dance and spread the joy. Thank you Mom for telling me when I was a young girl that I could do and be anything I wanted in life. Would you believe it? 

Photo by Brenda Comer for Shoofly Magazine