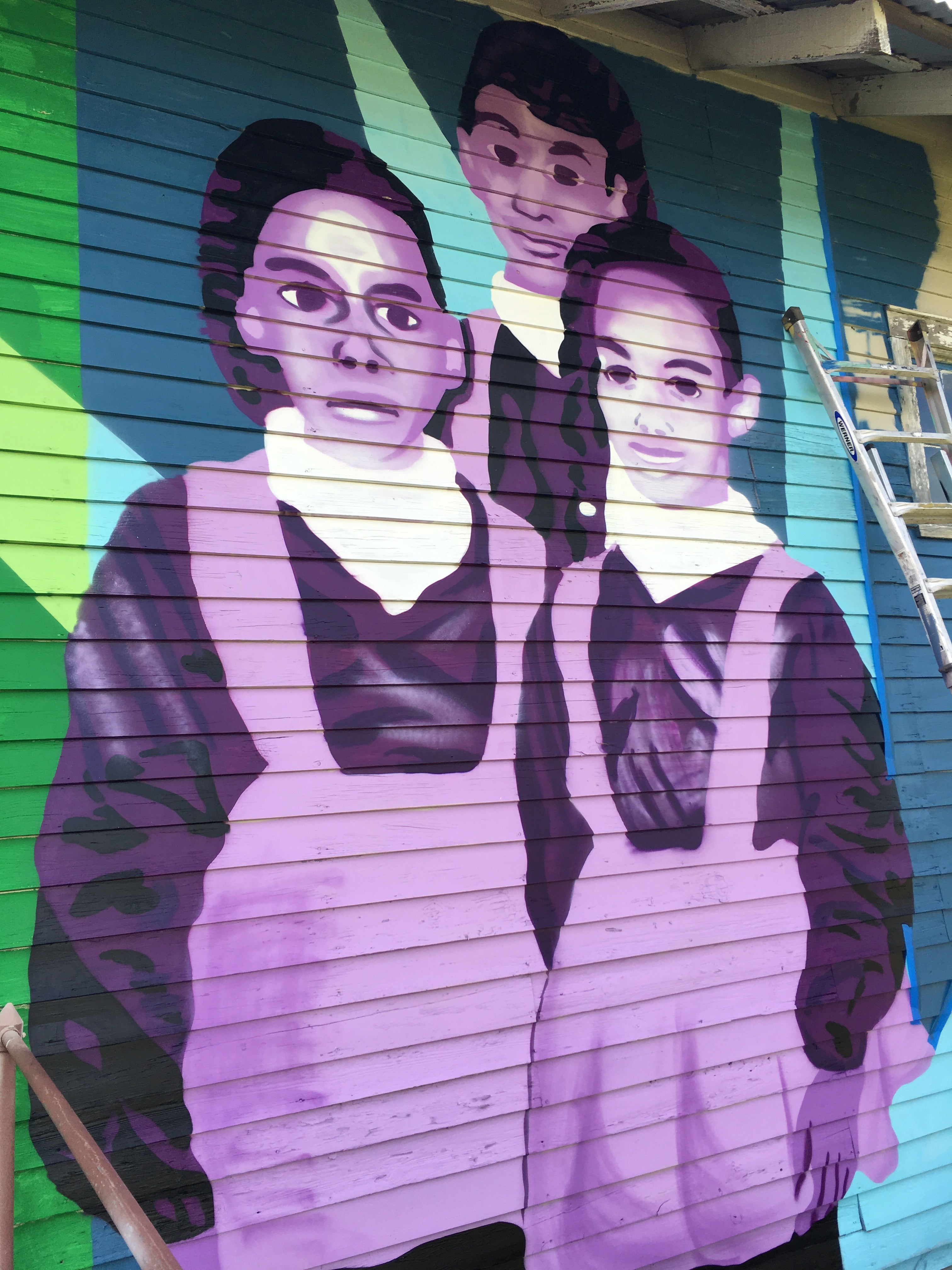 Three Girls in the Mural
By Maurice Singleton

The 100 Men Hall has an incredible history that includes the hosting of iconic rhythm and blues performances by James Brown, Eartha Kitt, Joe Tex, Joe Simon, The Neville Brothers and many others. The hall was also popular for hosting community events, such as dances, local theater and Mardi Gras balls. The mural on the southeast side of the building captures some of the themes of the late 1950s and 1960s.
Photo by Micah Green

One of the eye-catching pieces in the mural is the image of three young girls, approximately eleven years of age. Those three girls along with three boys, danced to a 1965 Motown release titled Shotgun,performed by Junior Walker and the All Stars.

The three girls featured in the mural are Deborah (Ishem) Alexander, Goldie (Nichols) Fairconnetue and Darlene (Labat) Lee. Their dance partners were Walden Curry, Myron Labat and Edward Ishem. Their performance was a tribute to the king and queen of the local Black Mardi Gras, which was huge in the 1960s.

"It was the big celebration for the Black community," Deborah recalled the Mardi Gras season in Bay St. Louis. "We looked forward to it every year. We didn't have anything else that we did where we worked on decorating floats leading up to the parade on Mardi Gras day. We had VCJ's (Valena C. Jones Hiigh School) homecoming game and parade  and basketball tournaments, but that didn't compare to Mardi Gras.

"I just Ioved dancing and singing," Deborah added. "Any chance I got to dance, it was a natural thing for me. I don't ever remember being scared to dance. As a little girl I loved to dance."

"We had fun," Darlene recalled the dance experience. "I think we just made them up, mostly Deborah. I've always been shy about getting up in front of people. And we were so young, so we just did what we were told.

"Looking back, it was good doing it," said Darlene. "It was good that they passed those traditions on to us."

Those traditions gained some inspiration from Goldie's mother, Alvina Nichols, who had grown up in New Orleans, but moved to Bay St. Louis to help raise her three younger siblings. She brought a healthy dose of New Orleans Mardi Gras with her.

"Mama loved Mardi Gras," said Goldie. "I guess it came from her dad. She was one of the founding members of The Merry Makers Mardi Gras Club, along with Catherine Ishem, Jean Dorsey, Alice Singleton and Aunt Selma Simms.

"We were the entertainment," Goldie recalled the dance at the Mardi Gras ball. "We were the fill in. That's how we got our start. We had to practice at Deborah's house at least twice a week."

The Mardi Gras season was a four to five-week affair for participants in the ball and parade. With rehearsals leading up to the ball, costume fittings, the ball, float preparations and then Fat Tuesday, commitment was required from the young participants.

"Even though we were dancing, they had us making paper flowers that were used to decorate the floats," Darlene recalled. 

"I looked forward to it," said Deborah of the Mardi Gras season. "The Indians were the star of the show for me.  After I reached an age that I could choose and keep up with the Indians walking the parade route I was an Indian."

Deborah recalled the night before Mardi Gras day: "That was a night that my mama was working on floats all night. We never saw the floats until Mardi Gras (day)."

Deborah, Darlene and Goldie were also classmates, and they celebrated their 50th year class reunion this past October (They graduated high school in 1971, but the pandemic delayed the celebration by one year). Two of them are active members of their church choirs. 

Deborah is a member of the Holy Name Catholic Church Gospel Choir in Los Angeles, California. Darlene sings in the St. Rose de Lima Catholic Church Gospel Choir in Bay St. Louis.

Goldie is a member of The Krewe of Nereids Mardi Gras Club in Bay St. Louis. She is a member of the 2023 Court.

"Mama would've been over the moon," said Goldie of her late mother. "She loved the ball. She went every year. I almost cried thinking about her as I was introduced."

The girls all said that the experience of their tribute dance had a positive effect on them. Deborah said that dancing allowed her to do something that she loved to do, and it likely contributed to her self confidence. For Goldie, it was an opportunity to continue a family legacy. For Darlene, it was a way to grow confidence as well as to continue a community tradition.

"That was our first time entertaining other than at school," said Darlene. "It was good that we played a part in keeping those traditions going."

Deborah and Goldie participated in the Mardi Gras Ball the year prior to the six-member team. They were joined by Walden Curry and Edward Ishem as they performed a dance to Kill that Roach, an early 1960s song called The Roach by Wendell and The Sweethearts.

The three girls are all retired but remain active. Deborah resides in Los Angeles after a 46-year career working in Bookkeeping and Billing for a dental clinic that serviced Los Angeles-area Hotel and Restaurant workers. Goldie retired from a position in security at Hollywood Casino. Darlene retired from a position as a deputy court clerk with the Hancock County Chancery Clerk's office.
Deborah Ishem 2021