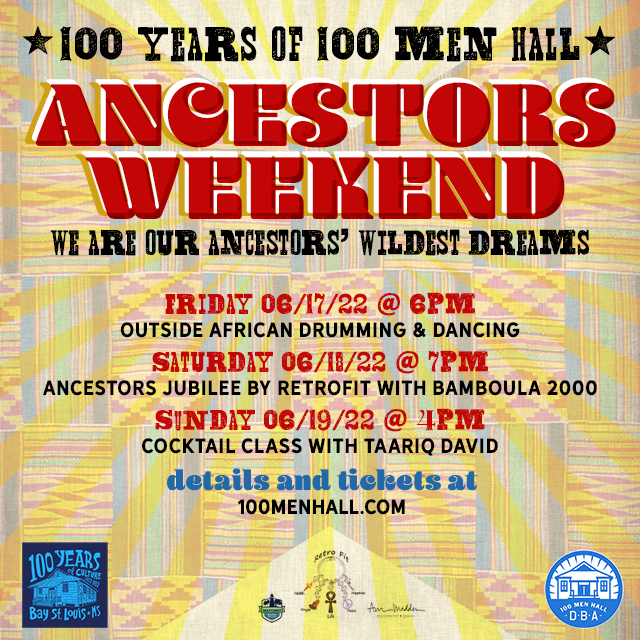 CENTENNIAL - Ancestors Weekend
When the pandemic shut us down in March 2020. we had an exciting year of music and cultural events that suddenly vanished off of our calendar. Then in October 2020, when Hurricane Zeta sent a tornado to tear off our roof, well we just felt done for. But when you think of what the ancestors went through, now, that was so much more than we could imagine. 
From African enslavement to slavery to Jim Crow to segregation, well, we could not even begin to celebrate the 100 Years of the 100 Men Hall without honoring those who came before, those who had it harder, those who built this place to celebrate life and joy, those whose legacies we honor today. 
So we asked the Mississippi Coast National Heritage Area to help us tell our 100 year story via four themed weekends. The first was Ancestors Weekend on Juneteenth weekend 2020, where the following happened here:
Mural by Adrienne Brown David - We Are Our Ancestors Wildest Dreams
Sculpture by Erica Larkin Gaudet - USE YOUR WORDS, STOMP OUT RACISM
Letter Press Poster by Amos Paul Kennedy Jr. - Quotes by Jesmyn Ward
African Drumming and Dancing with Baba Luther and Mama Jamilah
Ancestors Jubilee powered by Retrofit with BAMBOULA 2000
Craft Cocktail workshop by Taariq David with Hospitality Bruhs
Graphic design by Ann Madden