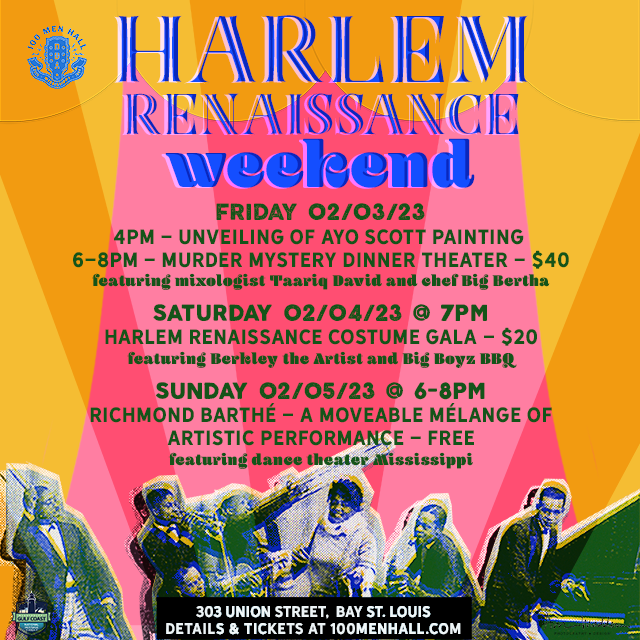 CENTENNIAL - Harlem Renaissance Weekend
The MS Coast National Heritage Area awarded the Hall a grant to tell the story of its hundred years through four significant eras. The Ancestors Weekend in June 2022 and the Chitlin Circuit Weekend in October 2022 provided the foundation of the narrative - that Black history begins with the ancestors and continues with a legacy of Black musicians who traveled the Chitlin Circuit. This thread runs through American history, where Black creativity and talent shine even in the darkest moments. As you mark the era of the Harlem Renaissance, you see an explosion of Black talent rise to the surface through music, performance, fashion, literature and art.  
In deciding how we (the Board of Directors and I) would tell the story, we looked for events that were a combination of a good time, commemorating and educating the community, and also paying homage to important people and stars in the Black community of Bay Saint Louis. 
The four-day weekend began with an art opening at Studio Waveland that featured original Barthé sculptures along with USM student artists' work. The combination of famous and aspiring artists in this exhibit brought home the story the Hall tells of the legacy that runs through the Black community's contribution to American history and culture. The 100 Men Hall and this small coastal town's homegrown talent is a part of this rich and fascinating narrative. 
(photos by Lionel Haynes)
Friday began with the unveiling of Ayo Scott's Divinely Crafted (an 80 x 58 painting now part of the Hall's permanent collection) along with a Harlem inspired cocktail made with Bristow Gin called Swing Low Sweet Cadillac by mix master Taariq David. 
Friday afternoon segued into a Murder Mystery Dinner Theater during Prohibition Times. An all-volunteer cast as well as a delicious meal prepared by Big Bertha's Kitchen and Catering put the crowd quickly in the mood to embody and celebrate the Harlem Renaissance era.
Berkley the Artist was the feature star of Saturday night as he performed songs in the vibe from the days of the Harlem Renaissance juke joints. (photo by Lionel Haynes)
Kennedy Press provided the Letter Press prints that captured the four-day weekend and its significance with the overlay of a poem My People by Langston Hughes. 
Sunday closed the weekend with dance theater Mississippi's moveable melange of poetry, song, dance, movement and still art celebrating all of the wonders the Renaissance has to offer. (photography by Ann Madden)