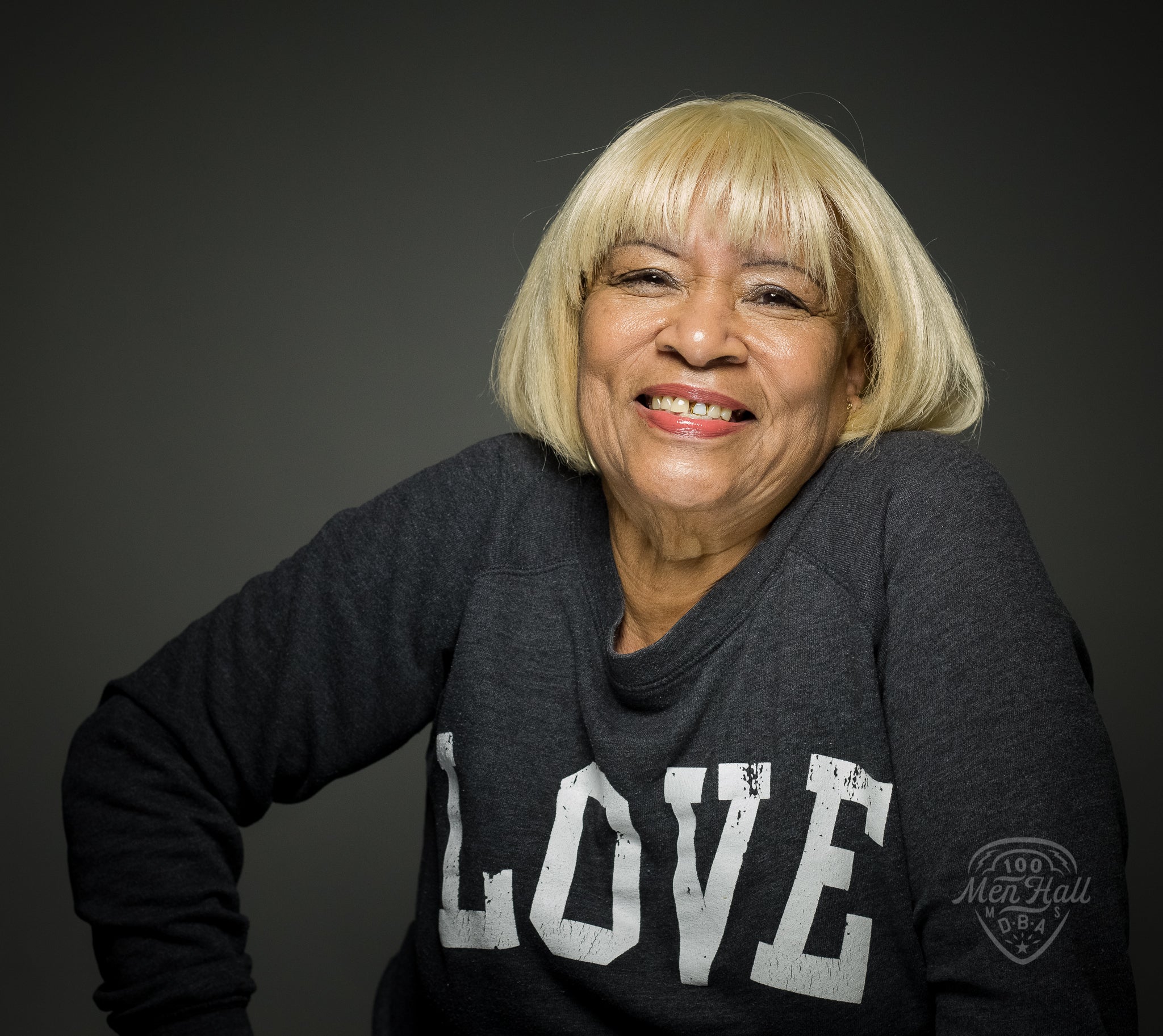 Elaine Dorsey
DAY 081 Elaine Dorsey photographed exclusively for the 100 Men Hall People Project (100MHPP).
When I was in school, I finished in 1971, so maybe around the 60s, there were a lot of dances at the Hall. We stayed right down the street in St. Stanislaus, my dad was the head cook, and he took care of the stadium, so they put a house in there for him and his family. We went to everything. Everything they had at the Hall, we went. We were a skip and a hop down the street. It was so awesome. The dancing, the bands, and all my friends were there. We had – oh my God – we had a great time there! We sneak out the door with the boyfriends. I was doing that. My sister stayed in the building. I was the one always trying to sneak out. There were always chaperones there. Those chaperones would always let my mom know. I remember Bo and Dee played there. My brother, Charlie Laneaux, played with Guitar Bo and them, because he was the drummer. The Siamese Twins were there one night and their heads were stuck together and it was so sad, but the people were lined up and they were all crying. The Twins were happy; they sung and everything. We had a blast there. I was around when they said they were going to sell it. I ride all over Bay Saint Louis on my bike and I used to always ride around there, and I would always just stop and stare at this building. No one was trying to buy it but for me the memories would just come back to me, and it was all like yesterday. The fun we had up in there. Not knowing if it would ever reopen again. To go in there and see everything like it was, it was amazing. I thank you so much for what you're doing, because that place is history. I tell my grandkids and I would say this is where your grandma would come dance and sneak out with her boyfriends. They would say, "Grandma, you did that?" And I tell, yes, I had fun! My mom got wind of what I was trying to do. My sister Janice was always staying inside and dance, and my mom would come park outside and she would catch me sneaking and I would get so mad at her.
(Photo by: Gus Bennett | The 100 Men Hall People Project)
____________
100MHPP RIGHTS USAGE TERMS: This official 100 Men Hall People Project (100MHPP) photograph is made available only for publication by news organizations and/or for personal use printing by the subject(s) of the photograph. The photograph may not be manipulated in any way and may not be used in commercial or political materials, advertisements, emails, products or promotions that in any way suggests approval or endorsement by the 100 Men Hall People Project or Rachel Dangermond.
© 2019 The 100 Men Hall People Project (100MHPP)
#100MenHall #100MenHallPeopleProject #mgcnha #heritagearea #GusBennett #Mississippi