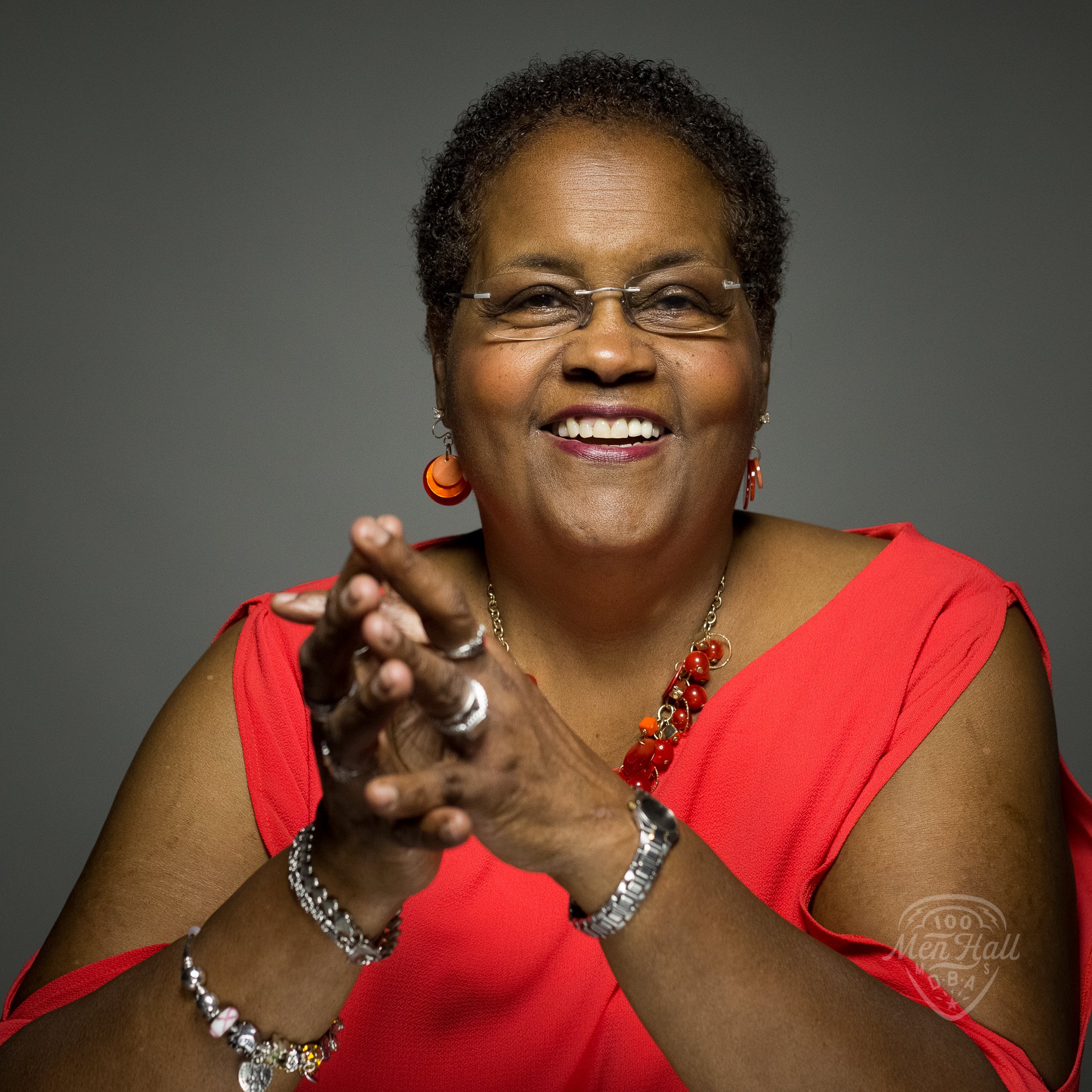 Pamela Williams Martin
DAY 048 Pamela Williams Martin photographed exclusively for the 100 Men Hall People Project (100MHPP).
We used to dance in here with no air conditioning. My mother was strict and she would not let us go outside, she said if it gets that hot then come home. The summer time would kill you in here.  My dad would be patrolling. Everyone would go outside to get some air and we would be sitting in this sweatbox. My sister would run in and say daddy's coming and we would have to stay in here. We couldn't do anything with my daddy around. He was the Police Chief! My daughter doesn't know anything about the Hall. It was closed down by the time we were coming up. Mostly she went to St. Rose, but when I was young St. Rose didn't have any dances. Here we could do what we wanted; it was our place. When the Hall was resurrected this was like going home. When they had the NAACP banquet here [January 2019], it was so packed in here and Toy [Watts] spoke, and Jeramey Anderson.
My Uncle Jimmy (Richmond Barthé), when he lived in Kingston, Jamaica, he would come stay with us in our old house on Old Spanish Trail. My mama would make all his favorite foods - pans of stuffed crab, creole cream cheese, and grits. She was so glad to see her brother. My father would say look at what she gives him; we don't get this food but he does. Uncle Jimmy loved Bay Saint Louis. He lived next to the great aunts, two spinsters. They were Labats and were 104 and 105 when they died. 
(Photo by: Gus Bennett | The 100 Men Hall People Project)
____________
100MHPP RIGHTS USAGE TERMS: This official 100 Men Hall People Project (100MHPP) photograph is made available only for publication by news organizations and/or for personal use printing by the subject(s) of the photograph. The photograph may not be manipulated in any way and may not be used in commercial or political materials, advertisements, emails, products or promotions that in any way suggests approval or endorsement by the 100 Men Hall People Project or Rachel Dangermond.
© 2019 The 100 Men Hall People Project (100MHPP)
#100MenHall #100MenHallPeopleProject #mgcnha #heritagearea #GusBennett #Mississippi