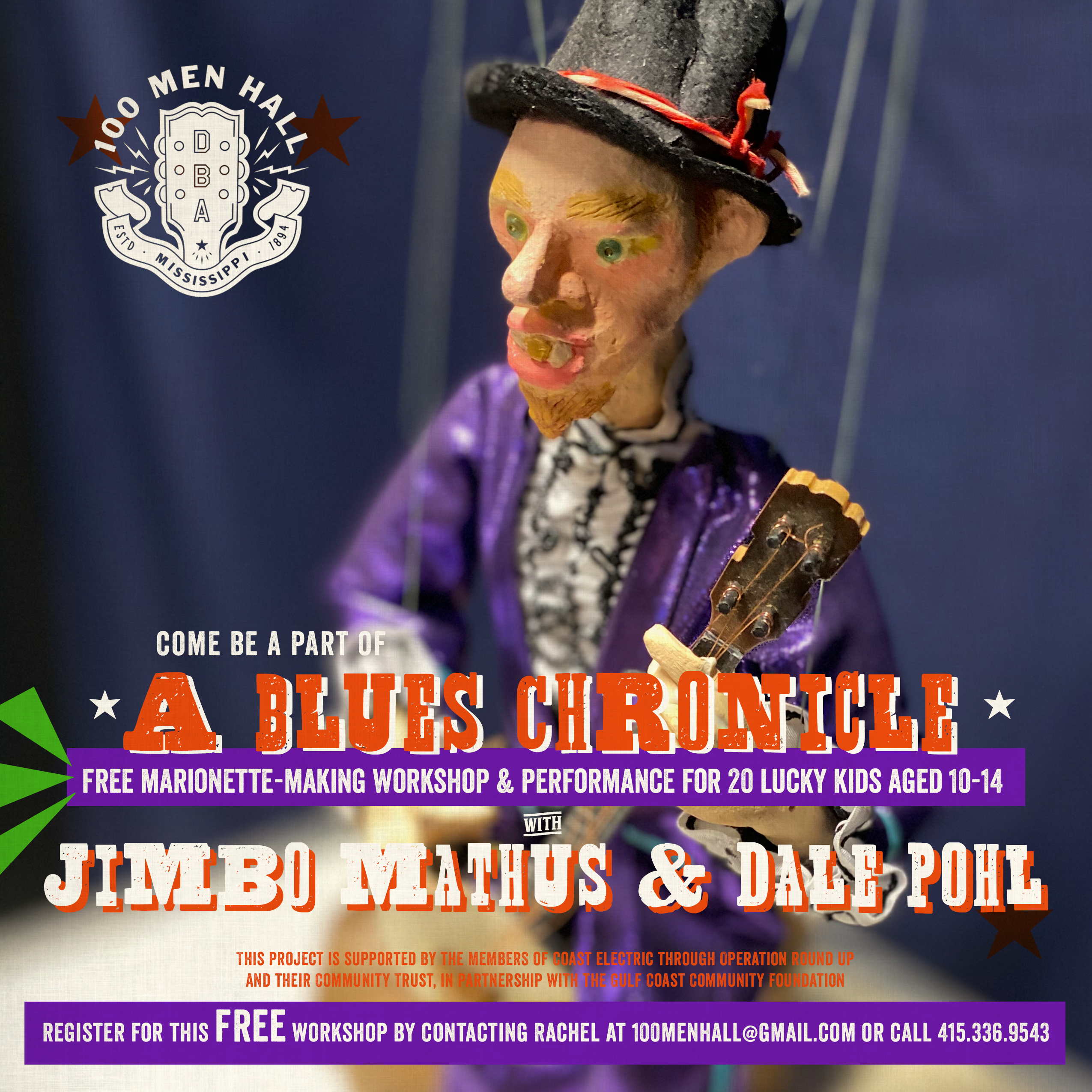 A Blues Chronicle
During the month of June 2022, Tin Shed artist in residence Jimbo Mathus and local artist Dale Pohl offered a month-long community (free) workshop for 25 children, ages 7-20 at the 100 Men Hall to educate and commemorate the Hall's centennial anniversary. 
"A Blues Chronicle'' – with a custom-designed marionette stage - used art and music to foster a deeper appreciation for the culture, music and history of the 100 Men Hall community and its lasting impact on Bay Saint Louis and the Mississippi Gulf Coast. 
This project was supported by the MEMBERS of Coast Electric through Operation Round Up and their Community Trust, in partnership with the Gulf Coast Community Foundation 
 
Oxford born Jimbo Mathus, artist, storyteller and musician was in residence at the 100 Men Hall's Tin Shed during the entire month of June and collaborated with Bay Saint Louis resident, Dale Pohl, artist and art teacher. 
The young artisans learned how to create marionettes (clay work, sewing, and painting), construct a marionette stage (carpentry), design the set (lighting and painting), and become proficient in storytelling and script writing as well as learn to appreciate the unique music born in Coastal Mississippi, by decade, thanks to 100 Men Hall.  
After weeks of intense studies and hands-on creativity, the program culminated with a filmed performance of "A Blues Chronicle'' at the 100 Men Hall.  The performance was open to the public for families, residents and visitors to appreciate the significance and 100-year timeline of all of the aspects that created this historical landmark. The performance will be made available to classrooms throughout Mississippi. 
Night Sky narrator - Tatiana Johnson
Walter A. Benoit narrator - Tin Dangermond
Click here to watch a video documentation of the workshop. 
By Rachel Dangermond